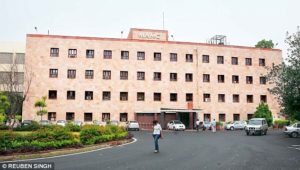 To counter the worsening situation of pollution in National Capital, Delhi, Maulana Azad Medical College (MAMC) is going to set-up a Department of Occupational and Environment Health.
The department will have a dedicated staff to do surveys and research on the data collected for more effective solutions.
"Official papers for the setting up of this department have been forwarded and we are looking to get at least six people as dedicated staff for the same This team will help find scientific evidence of air pollution against health. But this set-up will take some time and thus we still need separate preparations for the coming dreaded winter months," said Dr. Siddharth Ramji, Dean, Maulana Azad Medical College.
The Air Quality Index (AQI) was severe between June 13 to June 15, which came down to the level of 'very poor' two days after and has been remained in 'moderate' category since then.
According to the convention— AQI between 0-50 is considered 'good', 51-100 'satisfactory', 101-200 'moderate', 201-300 'poor', 301-400 'very poor', and 401-500 'severe'.
A public health emergency was also declared by the Indian Medical Association (IMA) in Delhi in November 2017, because the air quality was breached the level of 999, which is tentatively equal to smoking 50 cigarettes a day.
As per WHO, standard permissible levels of PM 2.5 in the air is 25 μg/m3 (24-hour average), but unfortunately, India's National Ambient Air Quality standard is standing at 2.4 times higher at 60 μg/m3.

Recommended from all portals