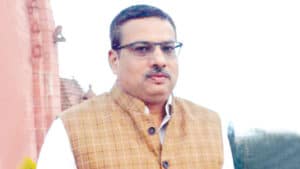 The Sikkim has improved health infrastructure which has been instrumental in enhancing patient care. Primary Healthcare Centres (PHCs) have been equipped with all the modern facilities including X-Ray, says Vishal Chauhan, Commissioner-cum- Secretary, Department of Health & Family Welfare, Government of Sikkim, for Elets News Network (ENN).
Q How do you analyse current state of healthcare in Sikkim in terms of quality, accessibility and cost-efficiency?
The State of Sikkim has healthcare facilities as per the population norms of Government of India. These are accessible in terms of distance and time. All the facilities down to the PHCs provide services 24X7 and all the sub-centres are manned by required HR (Human Resource). There are provisions of free drugs, diagnostics, diet and other services. The State is showing upward trends in all health indicators.
Q Tell us about the Government's various schemes and programmes to provide comprehensive healthcare facilities to people?
The STNM Hospital, Gangtok which is the apical hospital of the State, provides services related to all the specialities and is the Centre Referral Hospital for the whole State. There are four district hospitals headed by chief medical officers with all specialities and AYUSH providing comprehensive healthcare. The PHCs are manned by medical officers and staff providing comprehensive primary care where all the national health programmes are being implemented along with the state flagship programmes i.e. Chief Minister's Comprehensive Annual Total Health Check-up for Healthy Sikkim (CATCH) in which people are enumerated and screened for all diseases annually. Following are the benefits/schemes given to the beneficiaries in addition to Government of India benefits:
Mukhya Mantri Jeevan Raksha Kosh (MMJRK)
Sikkim State Illness Assistance
Fund for BPL Assistance
Mukhya Mantri Sishu Suraksha Avum Sutkeri Sahayog Yojana (MMSSASS)
Mukhya Mantri Shrawan Shakti Yojana (MMSSY)
Reimbursement facility for all Government servants
Q  Despite various schemes and programmes rural healthcare in India remains in tattered state. What initiatives have been undertaken to improve healthcare infrastructure in the State's rural areas?
The rural area of the State has facilities as per the population norm of the Government of India. All the PHCs have medical officers in place, providing 24X7 comprehensive primary healthcare. In the rural area of Sikkim, the role of private healthcare sector is negligible. Majority of the population utilises the public healthcare facilities. There is robust Referral Transport System in place to provide continuum of healthcare. Out of four district hospitals, three are First Referral Units (FRU) providing free blood and C-section facility by specialised manpower.
Q  How the State Government is planning to implement Centre's Ayushman Bharat scheme?
Under the Ayushman Bharat Programme announced by the Prime Minister of India, there are two major provisions:
Conversion of all sub-health centres (SHC) in the country to Health and Wellness Centre (HWC) by 2022.
National Health Protection Scheme (NHPS) / Pradhan Mantri Rastriya Swastha Suraksha Mission (PMRSSM)
Conversion of all Sub Health Centres ( SHC) in the country to Health &Wellness Centre ( HWC) by 2022:
The Government of India has announced 1,50,000 Health and Wellness Centres (HWC) would be created and the transformation activity has to be completed by the 2022. Similarly, in urban context the Urban Primary Health Centres would be strengthened to deliver comprehensive primary healthcare. The HWC is envisaged to provide comprehensive 12 sets of services through a team led by Mid-Level Health Provider (MLHP) who could be a B.Sc nurse/GNM, after undergoing suitable Bridge Course in public health and primary care. The Government of India has introduced a partnership with Indira Gandhi National Open University (IGNOU) for a six-month bridge course for nurses. The transformation of SHC (Secondary Health Centres) to HWC in Sikkim is proposed to be in a phased manner starting from this FY 2018-19 and it is to be completed by the FY 2020-21 thereby fulfilling the mandate of 100 per cent transformation of SHC to HWC ahead of target year of 2022 In the above context, a total of 34 HC are proposed and approved to be transformed into Health and Wellness Centre in the State of Sikkim in this current financial year (2018-19). It is also proposed that 60 SHCs will be transformed in 2019-20 and remaining 53 in 2020-21 so that the State shall achieve 100 per cent transformation of SHC to HWCs by 2021 before the set
national target year of 2022.
Status as on 6 June, 2018:
The following facilities have been identified and approval accorded from the Government for transforming to H&WC
The Mid-Level Health Provider (MLHP), who is to lead the H&WC team, will be approved from the Government, a B.Sc nurse/GNM from regular cadre, who will receive six months bridge course in a Programme Study Centre (PSC) identified by the State and certified by the IGNOU Sikkim for certification
Total 24 councillors/ trainers from the facility have been identified and a proposal for certification forwarded to the RD, IGNOU, Gangtok
Two PHC are also identified for converting to H&WC for referral and continuums of care in aspiration District i.e. west Sikkim namely Dentam and Soreng PHC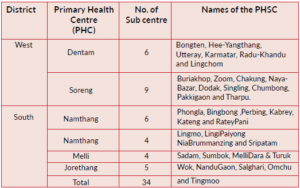 National Health Protection Scheme (NHPS) / Pradhan Mantri Rastriya Swastha Suraksha Mission (PMRSSM):
The nodal officer for the implementation of PMRSSM has been identified. ASHAs have been working for validating the data of the beneficiaries of their respective areas as per the Socio Economic Census Database of India.
We believe that design has to be the starting point for a successful user experience in the facility to be created. Without a good and functional design, the building will eventually be very inefficient and ultimately fail.
Q  Many a times the Government hospitals lack modern equipments and latest technology to cater to people. What steps have been taken to improve the situation on this front?
The State has provided all the diagnostic facilities including other specialised facilities like Digital X-Ray, MRI, CT Scan. The PHCs are equipped with X-Ray facilities and Semi-automatic analyser. There is 1,000-bedded hospital under construction which will be equipped with all the modern facilities.

Recommended from all portals