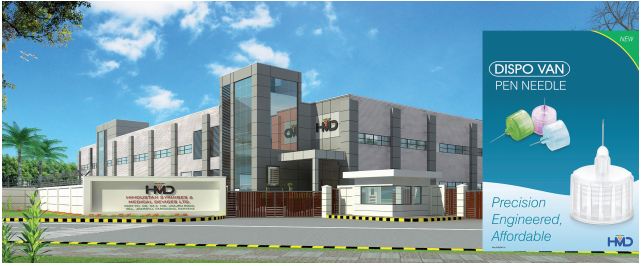 To offer comfort to people with diabetes, Hindustan Syringes & Medical Devices (HMD) has indigenously developed 'Dispovan Insulin Pen Needles', reinforcing India's capability to produce world class medical devices.
These are high precisioned, technologically advanced Insulin Pen Needle developed by HMD, one of the largest manufacturers of Disposable Syringes in the World and the largest for Auto Disable syringes.
It is the most revolutionary, pioneering, and India's First "Made in India" Dispovan Insulin Pen Needle, said an official communiqué of the company.
The Dispovan Insulin pen needle is a precision engineered, yet affordable sterile single use pen needle, which can be universally fitted on all international brands of Insulin Pens.
With features like, ergonomic shape for improved skin contact and grip, extra thin wall, multi-bevel, tapered point, Dispovan Insulin pen needle is designed and manufactured by HMD with intent to offer a much less painful injection experience for diabetic patients.
According to Rajiv Nath, Joint Managing Director of Hindustan Syringes & Medical Devices (HMD), "We are particularly excited about the prospects of our latest offering 'Dispovan Insulin Pen Needle' manufactured in our state of the art manufacturing facilities, which will end India's import dependency and the monopoly of BD.
"Patients will now be able to access an affordable world class quality product, which they need not reuse because it is expensive. We have received excellent feedback and clinical acceptance from the end users of a comfortable injection and glad that our investments in high end technology are giving us a competitive edge," he said.
"With the launch of 'Dispovan Insulin Pen Needle' we will contribute towards our ongoing commitment of making healthcare affordable for common people in India" said Pardeep Sareen, Chief General Manager-Marketing of HMD .
"Why reuse a pen needle," he quipped "when Dispovan makes it affordable for single use? Reuse of a Insulin pen needle could increase the following:
• Bacterial growth on the needle – Risk of injection
• Experiencing pain when injecting
• Risk of lipohypertrophy (lumpy skin) occurring
• Risk of the very fine tip of the needle breaking off
The above stated risks will grow with each re-use", he advised.
Dispovan Insulin Pen Needle is manufactured at HMD's Faridabad- Ballabgarh plant. The new plant is spread on an area of 5.5 acres and will have the capacity to initially produce over 100 million units per annum of 'Dispovan Insulin Pen Needle' to meet the rising export and domestic demand for its new technology.
The pricing of the Becton, Dickinson and Company (BD) pen needle is Rs 14 MRP whereas HMD has initially kept the MRP of its Dispovan pen needle for Rs 12.
Dispovan pen needle is economical for patient by at least 15 per cent, as compared to imported pen needles. Unlike prices of imports that are volatile and linked to ever changing exchange rates and steady devaluation of Indian rupee that makes imports expensive, the made in India product has relatively stable pricing.

Recommended from all portals