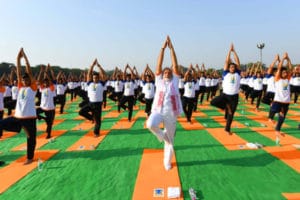 Yoga has become one of the most powerful 'unifying forces' in the world, said Prime Minister Narendra Modi on the occasion of 4th International Yoga Day.
 "It's a proud moment for everyone that today, all over the world people are welcoming the brightness and warmth of the sun with Yoga. From Dehradun to Dublin, from Shanghai to Chicago, and from Jakarta to Johannesburg, yoga is now spread everywhere," the Prime Minister said while addressing a big gathering at the Forest Research Institute (FRI) campus in Dehradun on Thursday.
The Prime Minister also performed Yog asanas – "Pranayama" and "Dhyan" with about 50,000 yoga enthusiasts and volunteers at the institute's campus on the occasion.
Speaking about its benefits and popularity, the Prime Minister said the entire world has embraced Yoga and the glimpse of this can be observed in the way International Day of Yoga is celebrated every year.
Yoga day has become one of the biggest mass movements in the quest for good health and well-being, he added.
Underscoring the need to highlight "our rich heritage" which has set an example for others to emulate, the Prime Minister said we should not hesitate to honour "our own legacy and heritage if we want the rest of the world to respect us".
"Yoga is beautiful because it is ancient and yet modern, it is constant and yet evolving. It has the best of our past and present and provides a ray of hope for our future," he said.
Talking about the potential and benefits of Yoga, Prime Minister said that Yoga has a solution to most of the problems faced by people, as individuals as well as a society.
Appealing people to adopt Yoga in their daily routine, he said that Yoga could lead to a calm, creative and content life, removing tensions and needless anxiety.
"Instead of dividing, Yoga unites. Instead of further animosity, Yoga assimilates. Instead of increasing suffering, Yoga heals," he added.
On Wednesday, Modi in a tweet gave a call to general public to embrace yoga.
"I urge people around to world to embrace Yoga. I also request people to share the joys of Yoga with others by teaching Yoga particularly to today's youth. This way we can create a healthier planet."
International Day of Yoga is marked annually on June 21 since its inception in 2015. An international day for yoga was declared unanimously by the United Nations General Assembly (UNGA). A series of Yoga related events have been being organised across the world to mark the occasion  today.
The Prime Minister had earlier participated in Yoga celebrations at Rajpath in New Delhi in 2015, the Capitol Complex in Chandigarh in 2016, and the Ramabai Ambedkar Sabha Sthal in Lucknow in 2017.

Recommended from all portals