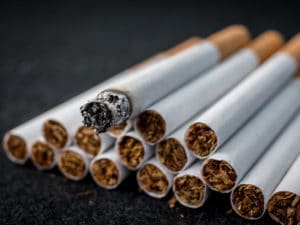 "It killed our ancestors; it is killing us and will kill our generations." Tobacco the most commonly sold drug that looks cheap but cost heavy on life, so now let's say "NO TO TOBACCO". In India approximately 10 lakhs people die each year due to tobacco use. As per the Global Adult Tobacco Survey (GATS) fact-sheet, tobacco consumption will be killing over 1.5 million people every year by 2020 including male, female and premature deaths.
The latest growing trends in youth for smoking tobacco has put future of country at risk. A large number of people suffering from lung and mouth cancer fall under the range of 25 to 45 years of age. The trendy looking forms of tobacco are Bidis – flavoured and non-flavoured, cigarettes, cigars, electronic cigarettes, hookah, kreteks (clove cigarettes) and even dissolvable tobaccos, said Dr Pankaj Sayal, Senior Consultant in Pulmonology at PSRI Hospital.
Cigars, symbol of expensive lifestyle can be even more dangerous. Cigar smoking is linked to cancers of the mouth, lips, tongue, throat, larynx, lung, pancreas and bladder cancer. In recent study, a new fashionable trend of smoking Hookah has been seen. Smoking hookah exposes the user to 100 to 200 times the volume of smoke inhaled from a single cigarette. Moreover due to sharing of mouthpiece, many infections also get transmitted amongst users.
Smokeless tobacco is also not safe. It consists of 28 cancer-causing agents (carcinogens). It increases the risk of oral cavity cancer, which associates with leukoplakia and recession of the gums.
According to Dr Anshuman Kumar, Director, Surgical Oncology in Dharamshila Narayana Superspeciality Hospital, "Tobacco is poison". Leave it on time before it is too late. Smoking and smokeless (Chewing Tobacco) both forms are fatal. You start smoking either for a kick, style or status. You bring it close to your lips but tobacco betrays you and attacks your lungs, chokes your heart and vessels, take away your youth vitality and make you impotent and infertile. Tobacco builds a path to your palacial body so that "Emperor of all the maladies" CANCER can attack you."
Out of 4000 chemicals tobacco has 70 IARC group 1 carcinogens, which can initiate and promote mouth cancer, cancer of lung, oesophagus, pancreas, urinary bladder and so on.  Better not to start. If already started the best medicine to quit is your own "WILLPOWER" Don't remain justified and misguided that it can't harm you because of the brand or type of tobacco you consume. Believe me, tobacco never leave you without return gift. It is devil loyal, Dr Anshuman added.
According to report by International Tobacco Control Project (ITCP) India with the population of 1.2 billion has currently reported with 275 million tobacco users. ITCP has also conducted survey face to face by interviewing 8,000 tobacco users and 2400 non-users across 4 Indian States – Bihar, Maharashtra, Madhya Pradesh and West Bengal.
According to Dr Gyandeep Mangal, Senior Consultant in Respiratory Medicine, Sri Balaji Action Medical Institute, it can be very difficult to quit smoking or chewing of tobacco but by implementing some simple changes in your daily routine can help you reduce its craving.
1] Water – Water can help your body to detoxify the nicotine present in blood due to prolonged regular consumption of Nicotine.
2] Ginger – The common side effect of quitting tobacco is feeling of nausea. Ginger helps to combat that nausea and can be consumed in form of Ginger tablets, Capsules or in Tea.
3] Vitamins – Multivitamins especially containing Vitamin A, C and E are proven to be excellent for repairing body by adding essential nutrients to expel the toxins. This will also give relief from withdrawal symptoms by providing extra energy, strength to body.
4] Ginseng – Add spoonful of ginseng powder in your juices, cereal, oatmeal or soup to avoid the craving.
5] Grape Juice – Daily grape juice helps to fight harder with toxics as it has natural detoxifiers and rejuvenates your system and keeps your energy levels high.
The slight change in lifestyle like making a quit plan by throwing ashtrays and any smoking related items from house, office and can also help.
Dr Sweta Gupta Clinical Director and senior consultant, Fertility Solutions, Medicover Fertility said, "Tobacco leads to infertility in both male and female. Smoking reduces male fertility by damaging sperm quality and reducing sperm count. People look at others who smoke and the children they have sired. This makes them wonder if smoking does affect fertility. Well there has been a decline is sperm quality over the years and today a man is not producing as much sperm as his forefathers did. People who smoke have been able to successfully have children, but when you are not able to have children one of the factors could be the tobacco. Scientists have found that smoking increases your chances of infertility by 30%. It does also depend on how many cigarettes you smoke. Women who smoke have a higher risk for miscarriages. Smoking also leads to premature menopause besides affecting the quality of your eggs. Whether its tobacco or marijuana, it affects your fertility. Secure future and make country tobacco free, is possible if each one of us give efforts to do so."
Dr Swapnil Mehta, Consultant, Pulmonology, Narayana Superspeciality Hospital said, "Tobacco is dangerous to your health no matter whether you smoke or chew it. Tobacco contains nicotine, an ingredient that can lead to addiction which affects your whole body. Tobacco smoke contains several thousand different chemicals, many of which may contribute to human disease. Smoking and eating tobacco leads to many chronic diseases like chronic obstructive pulmonary disease (COPD), lung cancer, risk of heart diseases and stroke etc. According to WHO, COPD is the 3RD leading cause of death worldwide and 20% of all heart disease deaths are contributed by active and passive smoking. If you wish to quit tobacco today then take nicotine chew gums, patches, sprays, inhalers or medicines like varenicline can help etc.''

Recommended from all portals