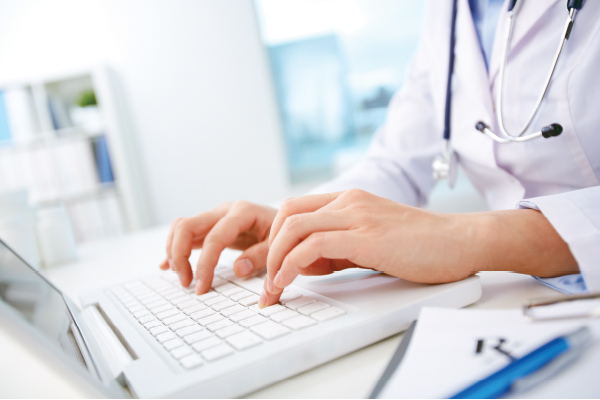 Gujarat has emerged as a role model in adopting e-Governance initiatives in the health space, driving its economic progress by ensuring world-class quality of food and pharmaceutical products manufactured in the state. Backed by a favourable industrial policy, which is geared for catalysing a robust, sustainable and inclusive growth. The State is backed by a favourable industrial policy, which is geared for catalysing a robust, sustainable and inclusive growth. Considered one of the most investor-friendly states in India, Gujarat also tops the agri growth table on the back of innovative initiatives and stringent safety standards in place, writes Gopi Krishna Arora and Hemangini Rajput of Elets News Network.
When the world economy was grappling with a major global recession that first became apparent in 2008, Gujarat held on its own to emerge as the only 'investor-friendly' state in India with its Industrial Policy 2009 geared for catalysing a robust, sustainable and inclusive growth.
Driven by the entrepreneurial zeal of its people, Gujarat is among the few states in India which figure prominently on the industrial map of India. As a matter of fact, Gujarat pays 27 per cent tax of India. With the success of Vibrant Gujarat Summits, it is evident that the State has the highest success rate of project implementation in the country.
The state has also embarked on a new model of industrial development through product clusters, industrial estates, industrial parks and Special Economic Zones. This has ensured that Gujarat remain on the high road to development and growth, and ultimately passing on the dividends of growth to the people of the State.
It is against this backdrop that various e-Governance initiatives were undertaken by the State Government to bring in more transparency and accountability to the entire gamut of business processes to accelerate transformation of the State's industrial landscape. The efforts culminated into the state winning multiple awards, including the National e-Governance Gold Award, placing Gujarat among the frontline states which value technological innovations as much as they value investments and industrial growth.
e-Governance Initiative of Gujarat FDCA
E-initiatives started by Gujarat are revolutionising the drug sector in India. The Food and Drugs Control Administration (FDCA), Gujarat, which is responsible for issuing licenses and monitoring the quality of food and drugs in the State, is the only ISO certified regulatory authority in India.
In accordance with the then Chief Minister Narendra Modi's thrust on e-Governance, Gujarat FDCA implemented a web-based software – Xtended Licensing, Laboratory & Legal Node (XLN) in January 2007.
XLN covers varied functions related to issuance of licenses, enforcement, laboratory management, availability of medicines, and monitoring of availability of blood and its components with the blood banks. The aim behind creating this system was to bring about transparency, traceability, simplicity, effectiveness, speed, accuracy and accountability in various G2G, G2C & G2B functions of the department.
Gujarat FDCA began with making the licensing process online to ensure that the licenses are issued within the specific time-frame. The biggest benefit of the system is that it has freed up the time of the FDCA officials, which is now used to draw more samples and conduct more raids.
XLN also allows e-interaction between FDCA officials of different states. In case a sub-standard or spurious drug detected in one state has been manufactured in another state, XLN generates auto intimation to the Intelligence Bureau cell of that state, and makes the entire supply chain available to all the concerned authorities. Final action taken by the manufacturing state in the matter is auto reflected to the sample drawers.
Benefits of GHMIS
For State Administrators, Medical Superintendents:
State-wide holistic view of hospitals' day-to-day functioning
Management Information System & Monitoring of pre-defined health indicators
Decision support based on exception reporting using alerts and triggers
Monitoring of effectiveness of National Programs and identifying areas of improvements
For Doctors and Healthcare staff:
Increased efficiency due to easy access to electronic medical records, templates for treatment recording cycle and ICD10 codification support
Overall reduced time-to-serve patients along with quality patient care
Building knowledge-base for research & development support by individual doctor or organisation
For Citizens:
Efficient health services at hospitals due to digitized history of records
Reduced per visit time for patients
Standardized charges
Less waiting time
Longer life of patient records
No need to carry bulky files
Online Information about doctors' availability
XLN has played a major role in ensuring efficiency and curbing corruption in FDCA, Gujarat. A new e-file gets auto allotted to the staff member having the least pendency on that particular day. The system's e-GOV lock ensures sequential processing of an e-file, and in case a file violates the seven days time frame on one desk, it gets automatically locked. The lock can only be opened after the concerned officer provides an explanation for the delay in file clearance to his superior. Similarly, the system monitors and logs the activities of the FDCA officials on XLN, leaving no room for any mischief with the applications or data. It rates the circle offices based on various criteria, and five best performing and worst performing ones get highlighted for scrutiny by the head office.
This model of e-Governance has been replicated in 14 states across India and various other state governments are considering to implement it to bring more efficiency into the system.
e-Governance Initiatives in Health
The Gujarat Government promotes information sharing with the citizens by way of display and disclosure of information of large number of functional departments and their subordinate organisations through their respective websites.
To position the state as a key knowledge economy, the State government's Science and Technology Department is leaving no stone unturned to make the government citizen interface more effective, transparent and efficient.
Gujarat is an aspiring leader with e-readiness initiatives driven by its IT Policy of 2006-2011. Gujarat has been positioned at the L2 Stage in Information Communication Technologies (ICTs), which is based on environment, readiness and usage of applications. The state is among the top hotspots in the world as far as e-Governance is concerned.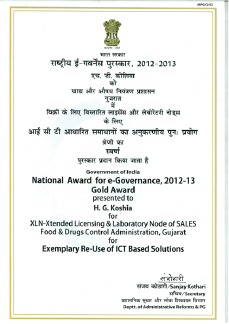 Gujarat Hospital Management Information System (GHMIS)
The aim of a Hospital Management Information System (HMIS) is to build trust and confidence for the general hospitals in the hearts of the citizens by providing efficient and quality health services through IT application. They streamline the operations with improved patient care and effective administration and control.
The Gujarat Hospital Management Information System (GHMIS) is a state-of the-art healthcare solution to provide better care to patients by addressing all the major functional areas of the hospital and the entire gamut of hospital activities. The main aim is to maintain Electronic Health Records of patients.
Ability Gujarat
A web-based application named Ability Gujarat has been developed intended to deliver the benefits of ICT to improve effective and efficient delivery of health services to differently abled people. The project has been designed to cover the entire state of Gujarat. The key component of the project is to identify Persons with Disability (PwDs) and undertake issuance of "disability certificates" to the individuals within a specified time period.
Features of Ability Gujarat:
Scientific assessment of degree of the disability based on guidelines and formulae
Generation of a computer based Disability Certificate with unique ID along with Identity Card.
Will provide details of support services for disabled person
The database thus generated will be hosted in the Public Domain which can be accessed online.
Query Module will help us to retrieve the information in desired format.
Online analytical reports of various parameters related to PwDs can be generated
Centralized database will be helpful for effective camp approach
Efficient services at hospitals due to digitalization of records
Real-time Information about PwDs
Easy to avail disability certificate due to Fixed Day and Fixed time approach
Reduced per visit time and less waiting time for the certificate
Longer life of disability records
Improvement in the quality of life of PwDs
Drug Logistics Information & Management System
DLIMS handles procurement, storage and distribution of medicines, drugs, injectable, surgical goods and medical equipments. It enhances the operational efficiency of the healthcare services provided at PHC and Sub-Centre level. The basic aim is maintaining database of drugs stocks and medical equipments. The initiative has won National "Silver Award" for e-Governance for the year 2008-09.
e-Aushadhi
This is a supply chain management application that deals with purchase, inventory management and distribution of various drugs. 'e-Aushadhi', which deals with the management of stock of various drugs, sutures and surgical items required by different district drug warehouses. The main aim of 'e-Aushadhi' is to ascertain the needs of various district drug warehouses such that all the required materials/drugs are constantly available to be supplied to the user district drug warehouses without delay. This includes classification/categorization of items, codification of items, quality check of these items, etc and finally issuing drugs to the patients, who is the final consumer in the chain.
The main aim of 'e-Aushadhi' is to ascertain the needs of various district drug warehouses such that all the required materials/ drugs are constantly available to be supplied to the user district drug warehouses without delay.
Benefits and main objectives of 'e-Aushadhi'
To implement a transparent system for procurement, storage and distribution of quality drugs, supplies, equipments etc. required for the hospitals at reasonable competitive price.
To ensure adequate savings in the drug budget by scientific forecasting system based on the preparation of essential drug list and its actual consumption.
Monitoring the budget and drug consumption pattern by introducing pass book system.
To improve infrastructure of the existing drug ware house in district.
Streamline the Drug warehouse management, quality management, equipment inventory management, equipment complain chain management, equipment auction life cycle, human resource and finance management in an optimized and efficient manner.
Enhance the use of technology as a cost-effective solution to support the OSMC administration's step towards new direction.
Support the operational and strategic information needs of the OSMC.
Provide an infrastructure for the sharing of information and computer applications throughout the OSMC hierarchy.
Birth & Death Entry Application System
Registration of birth is a right of the child and is the first step towards establishing their identity. It is compulsory to report births and deaths to the Registrar of Births and Deaths under the Registration of Births and Deaths Act, 1969. Births and Deaths are registered only at the place of their occurrence. Head of the household is responsible to report births and deaths that occurred in the house to the Registrar of Births and Deaths. It is the responsibility of the officer in charge to report the births and deaths that occur in hospitals, nursing homes, health centres, etc, to the Registrar of Births and Deaths of the concerned area. For reporting of events, prescribed forms are used, Form 1 for live birth, Form 2 for death and Form 3 for still birth. BADEA System is used to store and monitor statistical data of Birth, Death and Still Birth. System is to analyze the demographic and personal information is inserted into it. The main aim is to maintain database of Birth & Death records. The data entry in (BADEA) for rural area is by EGVS at village level and for urban area at Taluka/Nagarpalika/Corporation. The System is developed for the Health and Welfare Department, Government of Gujarat by National Informatics Centre, Gujarat State.
E-Olakh
This ICT initiative is developed for recording birth registration, death registration, still birth registration, compilation of records. The main aim is maintaining database of Birth & Death records and Issuing birth & death certificates.
Mukhya Mantri Amrutam (MA)
The purpose of the scheme is to improve access of BPL families to quality medical and surgical care for the treatment of identified diseases involving hospitalization, surgeries and therapies through an empanelled network of health care providers. The beneficiary is any Below Poverty Line (BPL) family, whose information is included in the district BPL list prepared by the State government rural development department and urban development department. The eligible family needs to come to the enrollment station, and the identity of the household head needs to be confirmed by the authorized official.
E-Mamta (MCTS)
E-Mamta is a technological platform that would account for tracking of each pregnant woman and children by name based registration, is provider interactive (village wise list to due beneficiaries-work plan) and beneficiary interactive (SMS to the beneficiary) is a new phenomenon in Public Health, where primarily reporting was based on numbers and evaluation, i.e., reaching out to beneficiary was considered a mammoth task. The target beneficiary of this initiative is Pregnant Women, Mothers & New Born Child. The main purpose is maintaining database of Pregnant Women, new born child and mothers.
Blood Bank Management System (BBMS)
It provides details of all blood banks in state with availability of stocks, ongoing camps and details of donors. The main purpose is stock availability of blood in blood banks across the state.
GPS based MHU / MMU Tracking System
This system is for tracking and monitoring of vehicles which provide health services to unreached areas. It tracks the Vehicles provided to Health care providers.
Sickle cell Anaemia Control Programme
This is a comprehensive program which fulfils the guidelines on sickle cell anaemia are recommended by WHO. The program helps in early diagnosis – New Born Screening (NBS), treatment and counselling of Sickle Disease patients including prevention by marriage counselling and prenatal diagnosis.
The Sickle Cell Anaemia Control Programme, run by the Commissionerate of Health and Family Welfare, Government of Gujarat has been awarded with "Prime Minister Award for Excellence in Public Administration" for the activities carried out in 2009-10 in tribal districts on 21st April, 2011.
School Health – Rashtriya Bal Swasthya Karyakram (SH-RBSK)
Developing the human capital of especially the intellectual, social, mental and physical abilities of children and adolescents is fundamental to the improvement of the quality of life of the citizens. Developing human capital is also critical for nations to enjoy political stability and economic growth. Nations that have invested in health and education have tended to experience corresponding economic development.
The Sickle Cell Anaemia Control Programme, run by the Commissionerate of Health and Family Welfare, Government of Gujarat has been awarded with 'Prime Minister Award for Excellence in Public Administration' for the activities carried out in 2009-10 in tribal districts on 21st April, 2011.
School Health (SHP) is a single, largest time framed health programme operating in the State of Gujarat since 1997. SHP covers all 26 districts and 18,568 villages (including 7 Corporations) of the State. The main purpose is maintenance of health records of children and adolescents.
The Government of Gujarat, Department of Health in collaboration with Education Department & WCD started innovative school health programme in 1997.
A State-level steering committee, under the chairmanship of the State Health Minister takes important decision about the School health programme.

Recommended from all portals