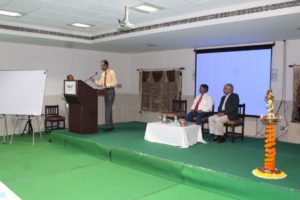 The Andhra Pradesh MedTech Zone (AMTZ), India's first state-of-the-art medical devices manufacturing park in Visakhapatnam, organised a two-days industry training programme on quality certification with an aim to bring down the time and cost-run to obtain globally accepted quality certification for Indian manufacturers.
The training programme, held on 28th and 29th June and attended by medical devices manufacturers, medical professionals and other industry stakeholders, was organised in association with Quality Council of India (QCI), National Accreditation Board for Certification Bodies (NABCB) and Association of Indian Medical Device Industry (AIMED).
The programme mainly focused on helping medical device manufacturers understand EC (European Commission) regulations, CE (Conformité Européene) marking, Industry Indian Certification for Medical Devices (ICMED) certification and New Medical Device Rules, 2017.
The programme's objective was to fill the regulatory space in quality certification for medical devices in the country. The key themes of the training sessions included EU regulatory, medical device definition and risk classification; CE Marking and New MDR; ICMED 9000 certification, which is ISO 9001 plus additional requirements; ICMED 13485, which is ISO 13485 plus additional requirements; and New Medical Device Rules, 2017.
Thanking QCI and NABCB for organising the event jointly "to exchange the knowledge share of regulations and application process for the medical device", Dr Jitendar Kumar Sharma, CEO and Director, AMTZ, said: "With this event, we will aim to create a more progressive practice towards regulatory frame work in the medical device sector."
Mrutunjay Jena, Joint Director, QCI, said, "QCI & AIMED in partnership with AMTZ is initiating a number of voluntary awareness Programs to facilitate industry and demonstrate compliance to the best global standards of which ICMED is one of them."

Recommended from all portals