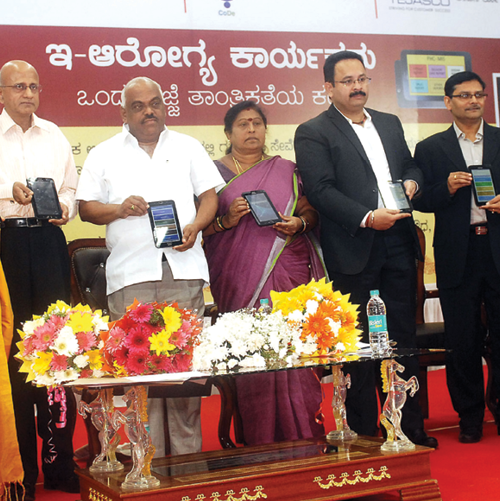 Samsung Research and Development Institute, Bengaluru (SRI-B) recently handed over 1,000 Tab IRIS to the Department of Health and Family Welfare, Government of Karnataka. Samsung Tab IRIS, the first commercial tablet to be approved by Unique Identification Authority of India (UIDAI) for Aadhaar verification, is set to provide advanced technological support to efficiently manage medical subsidies and operations at PHCs across the state, writes T Radhakrishna of Elets News Network (ENN).
Efficiency, transparency and productivity are needed by every institution to ensure growth, and Public Health Centres (PHCs) are no exception to this rule. Samsung India has recently entered into a Memorandum of Understanding (MoU) with the Department of Health and Family Welfare, Government of Karnataka, to help the state manage its public healthcare facilities efficiently.
As part of the understanding, Samsung Research & Development Institute, Bangalore (SRI-B) handed over 1,000 Samsung Tab IRIS to the department. Samsung Tab IRIS, the first commercial tablet to be approved by UIDAI for Aadhaar and KYC verification, would enable Public Health Centres (PHC) in the state to build their database in a digital format.
This association, between the Department of Health and Family Welfare and Samsung India, is aimed towards providing advanced technological support in the management of medical subsidies and operations at PHCs in the state more efficiently.
"The advanced technology of Samsung Tab IRIS will give a digital boost to the whole healthcare system. This will enable Public Health Centres to maintain and share medical databases on a real time basis," says Dr Aloknath De, Chief Technology Officer, Samsung R&D Institute.
Samsung Tab IRIS is SIM enabled and has the capability to scan the Iris of an individual, which can then be linked to Aadhaar. This would help PHCs to generate various value added reports to facilitate decision making by the Department of Health and Family Welfare, Government of Karnataka.
This integration of technology with the help of Samsung Tab IRIS aims to centrally consolidate information related to PHC administration such as patient treatment, diagnosis, deliveries and drug availability from various locations along with GPS information.
"We are confi dent that Samsung's world class technology will help us manage our public healthcare facilities more effi ciently. Digitising the database is very important for our public health centres as it will lead to better planning and decision making at a state as well as central level," Minister for Health and Family Welfare KR Ramesh says.
"We aim to connect with each and every resident of Karnataka at their door steps by upgrading the skills of our fi eld staff and equip them with high tech tabs. We are grateful to Samsung for associating their programme with Karnataka," the Minister adds.
"In the days to come the state will have virtual clinics with specialists on board connected to patients through these tabs," he infers.
"The health records of patients would be analysed online to take effective steps towards prevention of diseases. Audio-visual awareness will also be enhanced through the use of these Tabs," says Dr Shalini Rajneesh, Principal Secretary, Department of Health and Family Welfare, Government of Karantaka.
Samsung India: Research & Development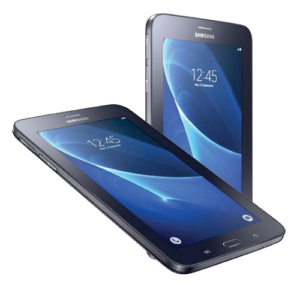 Samsung's emphasis on innovation, research and development is essential to its business. In order to inculcate a culture of global as well as local innovation, Samsung has a number of R&D centres strategically spread across the globe. India is amongst the hotspots of Samsung's innovation strategy. As a result of that, there are as many as three Samsung Research Institutes in India: Bengaluru, Delhi, and Noida.
These three R&D centres work on cutting-edge technologies across almost all areas of Samsung's business, for global as well as for local markets.
While Samsung Research Institute-Delhi develops emerging solutions for high-end televisions and digital media products, SRI-Noida is focused on smartphone development. SRI-Bangalore is the centre of excellence in mobile terminal & infrastructure, multimedia, SoC, server development contributing towards smartphone, semiconductors and digital printing solutions business.
Samsung R&D Bangalore (SRI-B) is the largest overseas R&D centre of Samsung Electronics. Founded in 1996, SRI-B has grown to be a signifi cant contributor to the cutting edge products and services of Samsung. SRI-B is a key player in the breakthrough innovation and success story of Samsung Electronics. Our engineers conceptualize and commercialise novel features, designs, products and services that differentiate Samsung as a market leader and help in delivering world-class products.
Samsung India additionally carries out R&D for product hardware at a second Noida R&D Centre. SRI-Noida is involved in the mobile commercialisation for almost all regions. SRI-Noida is leveraging best synergy efforts as R&D, offi cial QA, internal testing and design team work under the same roof. SRI-Noida has the full ownership of feature phones and has become one of the major centres of operating system (OS) upgrade development.

Recommended from all portals