Karnataka Chief Minister Siddaramaiah recently flagged-off 78 mobile medical units (MMUs) to provide healthcare services to people living in hilly remote areas, in locations which are far off from health centres and areas with poor transport connectivity, T. Radhakrishna and Sudheer Goutham of Elets News Network (ENN) write how this pioneering initiative is set to make healthcare more inclusive in the state.
Taking medicare to people living in rural areas has always been a challenge. For decades, the biggest question has been how to provide medicare to those feeling left out even in availing basic medical help. Karnataka's Department of Health and Family Welfare has come up with an idea to provide healthcare services to the needy with Mobile Medical Units (MMUs).
Chief Minister Siddaramaiah has flagged off 78 MMUs that will provide healthcare services to people living in hilly remote areas, in locations which are far off from health centres, areas with poor transport connectivity, and in vicinities which are mostly inhabited by the poor especially SCs, STs, other economically backward classes.
"The primary objective of the MMUs is to provide healthcare services to the needy in remote areas of Karnataka," says Minister for Health and Family Welfare KR Ramesh while launching the initiative along with the chief minister.
Out of 78 MMUs, launched during 2016-17 fiscal, 64 are funded by National Health Mission (60 per cent of funding is from NHM and 40 per cent from the state government) and 14 MMUs have been started from State Special Component Plan (SSCP) and Tribal Sub Plan funds (TSPFs) in 14 reserved constituencies of Raichur, Kalaburagi, Koppal, Vijayapura, Ballari, Davanagere and Chitradurga districts of Karnataka.
MMU Services
According to the Department of Health and Family Welfare, each mobile unit has been equipped with medical device, drugs and consumables as per the National Mobile Medical Unit Service guidelines. Each unit is equipped with an MBBS doctor, a staff nurse, a pharmacist, a laboratory technician, an ANM, and a driver. For each unit, in a taluk, 13 to 15 eligible villages have been identified for service. The mobile medical unit will visit these villages at least four or five times a month and provide services. From Monday to Saturday, the unit will visit one village from 10 am to 1 pm and another village from 2.30 pm to 5 pm.
From next year, all mobile medical units will have GPS. Also, 50 more units will be added to the fleet by the end of this year at a cost of Rs 48.39 crore.
"MMU services will be monitored by the management of the respective service providers, primary health centre (PHCs) medical officers, taluk health officers, district health and family welfare officers and state level officers. Progress will be reviewed by CEOs of zilla panchayats in the executive committee meeting of district health and family welfare societies every month, and at the state level every quarter," the department said.
MMUs is a mechanism to provide outreach services in rural and remote areas. This is not meant to transfer patients.
MMUs comprise of one/two or three vehicles varying state-wise.
Where there is more than one vehicle, one vehicle is used for transport of medical and para-medical personnel and the second is used for carrying equipment/ accessories and basic laboratory facilities. The third vehicle carries diagnostic equipment such as X-ray, ultrasound, ECG machine and generator.
Each unit has-one doctor, one nurse, one radiologist, one lab attendant, one pharmacist and a helper and driver.
There is provision of medicines in the unit.
Primary Health Centres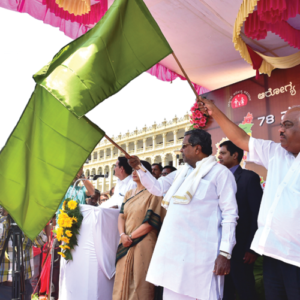 Karnataka state is one of the pioneering states in the country in providing comprehensive public health services to its people. Even before the concept of Primary Health Centers (PHCs) was conceived by the Government of India government of India, the state had already made a beginning in establishing a number of PHCs for providing comprehensive healthcare, and a delivery system consisting of curative, preventive, promotive and rehabilitation healthcare, to the people of the state.
Karnataka, India's eighth largest State in terms of geographical area (191,791 sq km) is home to 6.11 crore people (2011 Census) and 6.6 crore people in 2016. The state's population has grown by 15.7 per cent during the last decade, and population density has risen from 276 per sq km in 2001 to 319 per sq km in 2011. Karnataka has made significant progress in improving the health status of its people over the last few decades.
However, despite the progress, the state has a long way to go in achieving the desired health goals. In the last 15 years, since the drafting of the first Karnataka State Integrated Health Policy and its adoption by the State Cabinet in 2004, several changes have taken place in the state. There have been several gains in public health and healthcare, while new challenges and opportunities have also emerged. Administratively, three new districts have been added. The state has achieved several Millennium Development Goals (MDGs) in varying degrees.
NHM Vision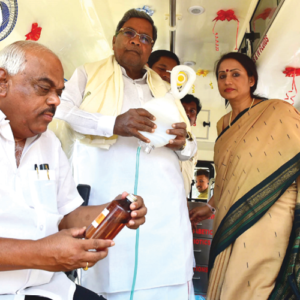 The vision of the National Health Mission (which encompasses the National Rural Health Mission (NRHM) and the National Urban Health Mission (NUHM) as its two Sub-Missions) is universal access to equitable, affordable and quality health care services.
One major initiative under the NRHM was the operationalisation of Mobile Medical Units (MMUs) to provide a range of health care services for populations living in remote, inaccessible, unserved and underserved areas mainly with the objective of taking healthcare service delivery to the doorsteps of these populations. With the launch of NUHM, the MMUs services are also intended to cater to the urban poor and vulnerable population and provide fixed services in areas where there is no infrastructure.
As of December, 2014 there were about 1,301 operational MMUs in 368 districts across the country. However, both task definition and effectiveness of MMUs show variations. Assessments and reviews show that on account of various operational and contextual factors, the deployment of MMUs, their coverage and outcomes are not commensurate with the investments in most states. Planning of MMUs has not followed the principles of inaccessibility and the range of services has not been such that it addressed the needs of the population living in remote areas. While support was provided to MMUs with diagnostic vans, state experiences also show that it was often not found feasible to provide effective X-ray services through the MMUs. Comprehensive planning and monitoring of MMUs remained a challenge in most cases.
The MMU guidelines are thus being revised in light of learnings from past experiences and existing good practices from some states. The rationale for revision is based on a number of reasons. Over the past years, the experience of NHRM, has resulted in (i) better mapping of inaccessible village clusters allowing for improved route planning of the MMUs, (ii) more opportunity for mobilisation given the presence of the ASHAs in even very remote villages, saving the MMU teams much time and energy in reaching those in need, (iii) increase in number of functional facilities has increased, allowing more opportunities for referral to facilities at shorter distances, (iv) the presence of the 108 which enabled better access in case of emergencies, (v) the more ready availability of telemedicine, and (vi) better understanding of which service packages can be rendered effectively through the MMUs.
The free diagnostics services initiative under NHM is envisaged to facilitate effective use of technology in digital imaging, use of tele-radiology, and a hub and spoke model for sample collection and testing besides allowing MMUs to serve as sites for point of care diagnostics and as collection centres for blood and sputum samples. X ray imaging services would form part of the Diagnostics initiative and hence would no longer be advised for MMUs.
These revised operational guidelines are intended to enable states to restructure implementation mechanisms for MMUs so as to enable optimal utilisation of vehicles and staff through convergence while ensuring that the outcome of the MMU contributes to the objectives of reaching the last mile and the unreached with more than just basic OPD services and a limited range of RCH services.
The key objective of the MMU is to reach populations in remote and inaccessible areas with a set of preventive, promotive and curative services including but not limited to RCH services, which are free to the patient at the point of care.
Suggested Package of Services to be provided at MMU
Maternal Health
Early diagnosis of pregnancy, early registration, MCH cards, birth planning (and preparing mothers and families in remote areas to shift to a facility at least one week before the due date, or to a maternity hut), regular ante- natal check-ups; includes screening for hypertension, diabetes, anaemia, TT immunisation for mother, iron-folic acid and calcium supplementation, identification and referral of high risk pregnancy, post natal cases, counselling, support and motivation for institutional delivery, nutrition, enabling Take Home Rations (THR) for pregnant woman through Anganwadi workers
Neonatal and Infant Health (0-1-year-old)
Examination of low birth weight/preterm newborn/other high risk newborns and management or referral as required), counselling and support for early breast feeding, improved weaning practices, identification of congenital anomalies,other disabilities and appropriate referral, family/community education of prevention of infections, complete immunisation, vitamin A supplementation, care of common illnesses of new born, AGE with mild dehydration and pneumonia case management
Child and Adolescent Health
Growth monitoring, prevention through IYCF counselling, access to food supplementation- convergence with ICDS, deworming, immunisation, prompt and appropriate treatment of diarrhoea/ARI, referral where needed, detection of Severe Acute Malnutrition (SAM), referral and follow up care for SAM, prevention of anaemia, use of iodised salt; prevention of diarrhoea, pre-school and school child biannual screening, school health records, eye care, de-worming; early detection of growth abnormalities, delays in development and disability, adolescent health services: personal hygiene, detection and treatment of anaemia and other deficiencies in children and adolescents
Management of chronic Communicable Diseases
Tuberculosis, HIV, leprosy, malaria, kala-azar, filariasis, other vector borne disease- identification, use of RDT/ prompt treatment initiation, vector control measures, Sputum collection for TB, RDK + lab testing and treatment for all vector borne disease examination, follow up medication compliance, prevention – mass drug administration in filarias, immunisation for JE
Reproductive Health and Contraceptive Services
Identifying eligible couples, and motivating for family planning by delaying first child, spacing between two children, access to spacing methods – OCP, ECP, condoms, IUCD insertion and removal, RTI treatment – syndromic management/partner treatment, first aid for GBV-link to referral centre and legal support centre
Management of Common Communicable Diseases and Basic OPD Care (acute simple illness)
Diagnosis and management of common fevers, ARIs and diarrhoeas, urinary tract infections, skin infections. (scabies, abscess), indigestion, acute gastritis. Symptomatic care for aches and pains
Management of Common Non-Communicable Diseases
Undertake screening for over 35 age group , at MMU on an annual basis or opportunistic screening for diabetes and hypertension, hypertension/diabetes mellitus medication, follow up diagnostics, refer for specialist consultation and early referral for complications, silicosis, fluorosis – follow up care, diagnosis of common respiratory morbidities (COPD and bronchial asthma) and treatment in all "chest symptomatic", epilepsy-early case identification, enable specialist consultation through referral
Management of Mental Illness
Community education and preventive measures against tobacco use and substance abuse, identification of people for de-addiction centres, referral of cases with mental illness, follow up medication, counselling/support
Dental Care
Dental care education on oral hygiene and substance abuse, in community and schools – recognition of dental fluorosis – referral for gingivitis, dental caries, oral cancers, treatment for glossitis, candidiasis, fever blisters, aphthous ulcers
Eye Care/ENT Care
School: Screening for blindness and refractive errors, community screening for congenital disorders and referral, counselling and support for care seeking for blindness, other eye disorders -first aid for nosebleeds, recognising congenital deafness, other common ENT conditions and referral, eye care in newborn, screening for visual acuity, cataract and for refractive errors, identification and treatment of common eye problems- conjunctivitis; spring catarrh, xerophthalmia, first aid for injuries, referral and management of common cold, acute Suppurative Otitis Media, (ASOM), injuries, pharyngitis, laryngitis, rhinitis, URI, sinusitis
Geriatric Care
Management of common geriatric ailments; counselling, supportive treatment, and pain management
Emegency Medicine
Snake bites, scorpion stings, insect bites, dog bites, stabilisation care in poisoning and referral first aid, trauma of any cause, minor injury, abscess management

Recommended from all portals