It's a state that has seen remarkable improvement in its health parameters in the recent past. From providing healthcare facilities to the needy at their doorstep and those in rural areas to delivering medical aid efficiently to the poorest of the poor, Punjab has come a long way. Hussan Lal, Mission Director, National Health Mission , in conversation with Priya Yadav of Elets News Network (ENN) discusses how this has been achieved.
What are the innovations done in healthcare in Punjab that other states can emulate?
There are two innovations that are noteworthy. One is the urban health kiosks and the other is health awareness campaign – a dedicated campaign for one month to create awareness about health issues and provide outreach health facilities to the people. This campaign was launched from 5 Nov to 5 Dec 2016 and was titled "Sehat Jagrukta Mohim". It was felt necessary as there is lot of lack of awareness among poor and those in rural areas – one about programmes and policies and two because they should be sensitised about preventive health.
How was the campaign implemented?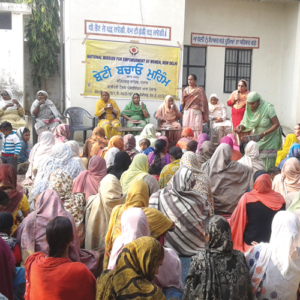 We engaged 100 vans equipped with audio visual aids, 42 inch LED TV. Besides, there was a performing team of artistes, doctors from all streams so that people can be made aware through 'Nukkad Natak' (street plays), and provided medical aid on the spot and given medicine. The idea was that if they are diagnosed with some disease that requires higher level of intervention they can be referred to nearby health centres. We touched 24 lakh people across the state and we came out with their health profile, disease profile so that specialists can hold camps accordingly.
How many people benefitted from this campaign?
We touched 14,000 plus villages and wards in the whole state. We ensured that all areas that have lesser health facilities in the vicinity are touched. Vans stood for 4 to 5 hours in one place and then moved to another location. It covered nearly five locations in a day. In the evening 'Nukkad Nataks' were held to sensitise people about the relevant issues. All drugs were provided free of cost. This included Allopathic, Homeopathic and Ayurvedic systems of medicine. We created a special portal for that. We could see live how many vans have reached which locations, if there has been any breakdown, fix the disruption by deputing back up van. Portal also had information about location, timing of each van. It was fully monitored from the headquarters. We sent dedicated teams one to each district over a period of one month to see if these are being held properly. I myself travelled to several places to how the vans and camps were functioning.
This was seen as one of the innovations and we got response from at least six to seven states.
How did the idea of urban health kiosks come into being?
The idea struck me when I was accompanying the mission director of NHM and there was a function at Hoshiarpur. During our chat, I discussed the idea of providing health services to the deprived at their doorstep. A person who is depending on daily wages will think twice before foregoing wages and travelling four kilometre to address a health problem. Probably they will get medicine from the chemist or some quack. So we wanted to have a facility with flexi timing that could help people.
I thought if we could do something and have a temporary structure. We prepared a proposal and identified places where we could put up kiosks. Initially we had problems with the local government department as they did not want to give land permanently. We said we want it on temporary basis and will not put up a permanent structure. Now these kiosks that have come up are a fulcrum of outreach activities. The timings are flexible so that people can come after work. There are departments for labour welfare who have lot of funds for their welfare. We asked them to give us funds for running these kiosks and set up more kiosks for the benefit of workers. They have sponsored 21 more kiosks.
We identified 30 more locations and are in conversation with department of labour for setting these up. They are given medicines free of cost.
We engaged 100 vans equipped with audio visual aids, 42 inch LED TV. Besides, there was a performing team of artistes, doctors from all streams so that people can be made aware through 'Nukkad Natak' (street plays), and provided medical aid on the spot and given medicine.
Which is the biggest health challenge in Punjab?
Lifestyle related diseases are a big challenge. People's lifestyle has changed and they do comparatively less physical work. In rural areas, more people from outside state are working as labourers. Local people have stopped working and feel it is below their dignity to work as a manual worker. This is a big burden on healthcare. Diabetes, hypertension, two three types of cancer have made an appearance in a big way.
Malaria is another challenge. Punjab has started action against the disease and in three years we will be malaria free. We are already a Polio free state.
What is the status of cancer in the state and what are the facilities available to combat it?
There is no study as of date that has established the relationship between cancer and the use of pesticides that co-relates the two. The population based cancer registry shows incidences of cancer is at par with national average. The state has taken lot of measures in creating infrastructure to combat the disease. There is one legislation that has been put into place – cancer and de-addiction treatment infrastructure fund act that takes care of the resources. We have collected more than Rs 300 crore. We have been able to strengthen all our three medical colleges with state of art equipment to treat cancer. All high end equipment is available with us. Under the CM Cancer Fund anyone can get treatment done for Rs 1.5 lakh in either government colleges or 16 empanelled private hospitals. We have tied up with TMC and set up a cancer centre at Sangrur. An Advanced Cancer Institute has been set up at Bathinda with technical support from TMC. In Mullanpur, a tertiary cancer care centre is coming up with help of TMC. The state cancer institute is coming up at medical college at Amritsar and tertiary care cancer centre at Fazillka.

Recommended from all portals