Biocon Foundation, the corporate social responsibility arm of biotech company Biocon, has been working in India in the preventive and primary healthcare sector. The Foundation's objective is to build a strong primary healthcare system by leveraging simple low cost technology, so that public health indicators are improved and the burden on tertiary centres can be reduced, says Rani Desai, Head of the Biocon Foundation, in conversation with Sudheer Goutham of Elets News Network (ENN). Excerpts:
How did Biocon Foundation come into being?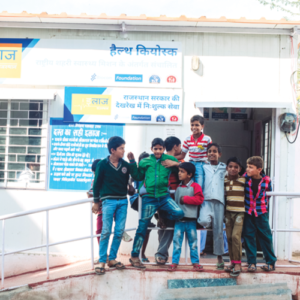 Biocon Foundation is a registered charitable trust that was established in 2004. Our main focus is to strengthen the delivery of preventive and primary healthcare. We want to build a strong primary healthcare system so that burden on hospitals can be reduced. In Karnataka, we have been running 8 eLAJ Smart Clinics, which provide medical consultation, diagnostics and medicines to communities living around these clinics. Over the last 12 years, these clinics have treated over 4,00,000 patients, and we have reached more than 1 million people through our preventive health programmes.
We conduct early detection and prevention of oral cancer, breast cancer and cervical cancer, through our community health network and with the assistance of our tertiary partners. We also have regular NCD camps in our clinics when days to help patients manage lifestyle related illnesses like diabetes and hypertension. We run community cardiology clinics to assist patients with follow up care.
Biocon Foundation has signed a Memorandum of Understanding (MoU) with the Rajasthan government. What are the key points of this partnership?
In November 2015, Biocon Foundation and the Government of Rajasthan signed a Public Private Partnership agreement, under which Biocon Foundation adopted five primary health centres (PHCs) in 3 districts of Rajasthan – 2 in Jhalawar District, 2 in Sawai Madhopur District, and 1 Urban Health Centre in Jaipur. Under the agreement, Biocon has taken over the entire management of these 5 PHCs and the 31 sub-centres attached to these PHCs.
In addition to recruiting staff, we have implemented the eLAJ Smart Clinic program, which combines a robust EMR with high end diagnostics. Making eLAJ integral to the operations of the PHC strengthens the primary health care services in a number of ways – the PHC becomes a single point treatment centre thus reducing stress for patients, out of pocket expenses of patients is reduced since lab tests are available at the PHC free of cost, and live data is available for health administrators to monitor the operations of the clinic as well as to understand the disease profile of the community that the clinic serves.
This data is made available to the health administration through live dashboards.
We have also started our Oral Cancer Screening, breast health screening and cervical cancer screening programs in the PHCs that we have adopted.
Please give us details about your MoU with the Government of Karnataka.
We signed a Public Private Partnership agreeement with the Government of Karnataka in January 2017, under which where we are installing the eLAJ Smart Clinic model in 15 government PHCs across multiple districts. The eLAJ model includes the software which Biocon Foundation has developed, and the hardware required to run the program. The hardware comprises of 3 laptops, a biochemistry analyser, a hematology analyzer, and the accessories required to connect the entire system. These are donated and installed by Biocon Foundation in each of the allocated PHCs. In addition Biocon Foundation will recruit and train data entry operators, and lab technicians to manage the eLAJ programme.
With the data from these clinics, the government will be able to monitor patient footfalls, design targeted health interventions, and implement strong preventive measures for underserved communities in rural and urban areas.
From eLAJ data we have observed that a higher proportion of patients in Karnataka have high Body Mass Index (BMIs) and high diabetes, when compared to the data from Rajasthan, where, especially in rural Rajasthan, we see more people with LOW BMIs.
Brief about the various programmes run by Biocon Foundation.
Biocon Foundation works in three verticals – health, education and community support and development.
In health, as mentioned above, our focus is on primary and preventive health, as we believe that a strong primary health system is necessary to improve public health indicators in the country.
Education – 10 years ago we introduced the Chinnara Ganitha Math programme in government primary schools in Karnataka. Today, we distribute 100,000 Chinnara, Ganitha math workbooks in five districts in Karnataka.
In order to support and develop strong communities we have built drinking water plants, rejuvenated lakes, and built schools and proper roads. In Bagalkot district we have built a 411 houses for a community that was displaced by floods in 2009. Each house has been provided with a toilet and solar lights. In addition to the houses we have also built an eLAJ Smart Clinic for the community and we have provided a drinking water plant in the layout.
Which IT interventions have you taken up to provide healthcare to patients in a faster and better manner?
Our focus is to use the power of technology to strengthen the delivery of health care services to underserved and remote communities. The eLAJ SMART Clinic model illustrates this focus. The eLaj model includes telemedicine consultation when required by a patient living in a remote community.
Our mHealth Oral Cancer Screening programme is a community screening program that can be implemented by an ASHA worker. People who chew tobacco are at risk for developing intra-oral lesions that can become cancerous if not detected early. When the ASHA or the clinic staff see such a patient, they use a simple mobile app to collect demographic data and take pictures of the lesions. These pictures are then transmitted to a web application and a remote specialist provides treatment advice to the patient.
iBreast Exam – harnesses the power of innovative sensor technology and software computing that enables any doctor or health worker to offer effective and simple breast examinations with ease and comfort. Biocon Foundation has completed more than 2500 breast scans and is committed to extending this service to patients in our clinics and PHCs.
Our cervical cancer screening program uses the Pap Smear which is the gold standard for cervical screening. The foundation collaborates with tertiary centres close to primary health centres.

Recommended from all portals