Unravelling India's Most Trusted Brands in Medical Education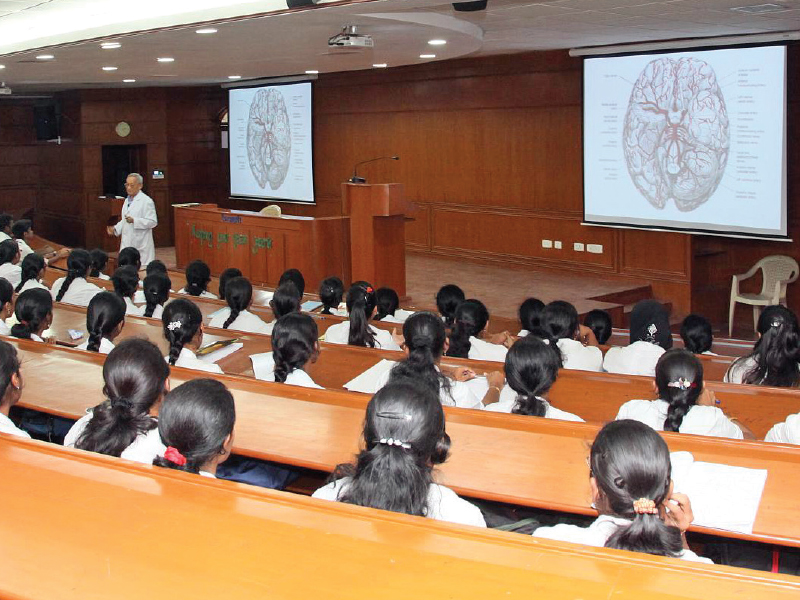 Of late, there has been a significant focus on the entire spectrum of Healthcare Industry, which is coming out with innovative technology-driven products & services. The hallowed precincts of medical profession is thereby witnessing a complete overhaul with the introduction of newer modes of healthcare delivery systems leveraging the power of the information technology. Standardisation of operating processes in terms of patient registrations, healthcare profiling, consultations, admission, treatment and billing; real-time synchronisation with specialised medical services like diagnostics, including management innovations as in outsourcing; consolidation of clinical protocols and creation of specialised communities of super specialists who can collaborate and comment upon the direction of treatment etc are some of the salient ones.
All these innovations have a direct bearing on the learning & training requirements of medical graduates, which is still governed under a set of regulations and protocols of the classical age. The lack of an agile regulatory framework has imposed a severe limitation of medical training facilities which undoubtedly are critical installations that need constant oversight. Excellence & Quality is thereby signalled by legacy parameters, with little scope and incentive for innovation. The field of Medical Education is facing the classic case of a closely held ecosystem following a downward spiral as demand surpasses supply and market-led technological innovations are easing the criticality of high-end skill sets. Doctors are transforming into Medical Professionals, with more and more technological aides to their easy disposal.
This metamorphosis is being acknowledged by the Medical Education Fraternity, but not at the pace desired by the policy makers, regulators and industry alike. eHEALTH, which has been watching the entire progression of the enterprise of healthcare, thought of evaluating the entire spectrum of Medical Education from the lens of progressiveness as signalled by basic parameters available in the public domain.
The attempt to reach out to the Medical Education Fraternity and make a deep dive into their innate functioning & futuristic action plans didn't evoke much positive response, primarily due to the tilt of market forces in their favour.
We thereby thought of a way out to initiate this quest by retorting to an analytics-driven methodology whereby the entire spectrum was evaluated on a set of unquestionable public parameters.
We made informed guesses and assumptions backed by sound reasoning to find out India's Most Progressive Medical Colleges for the year 2016. Ready availability of authenticated data created a significant challenge, as none of the regulatory agencies has embarked upon a datadriven governance framework.
The following are the parameters, as well as the evaluation criteria and weightages, which have been accorded to come up with the eventual results.
Parameter 1 – Establishment Year
In the conventional sense of Medical Education and underlying governance & excellence standards, the older the institution the better and stabilised are the systems and processes.
Weightage 10%
Score Base Year (2016) – Establishment Year
Normalization Criteria Score above 100 will have maximum score, i.e. 10
Parameter 2 – Institutional Website
Websites are the preliminary entry ports to an Institutional digital identity. The quality and performance of an institutional website has found a high degree of correlation with some of the conventional evaluation of progressiveness. To cite an example, the recently released India Rankings for Engineering Institutions across the country based on National Institutional Ranking Framework (NIRF) found a whopping Correlation to the tune of 75% with MOZ Score – a web analytics score – implying that both datasets matched 75% of the times. We have thereby deployed MOZ Score on the institutional websites of the Medical Colleges that predicts how well a website will rank on search engines.
MOZ Score is based on Domain Authority Score (a 100-point scale) developed by Moz.
To determine Domain Authority, Moz employs machine learning against Google's algorithm to best model how search engine results are generated. Over 40 signals are included in this calculation.
Weightage 25%
Score As delivered by MOZ API at www.moz.com
Normalization Criteria Since it's a linear score on a 100-point scale, no need of normalisation Normalization Criteria Score above 100 will have maximum score, i.e. 10
Parameter 3 – Number of MBBS Seats
In a regime whereby medical seats are strictly regulated and are enhanced based on a conventional set of heuristics interspersing performance, capacity and quality, the number of medical seats at the undergraduate level can be taken up as a metric of progressiveness.
Weightage 20%
Score (Number of Approved Medical Seats/50)
Normalization Criteria Considering Minimum Seats of 50 as base factor
Parameter 4 – Number of Postgraduate Programmes
The real advancement of a Medical Institution is its capability to offer the diverse range of Postgraduate Programmes in different streams of Medicine. The more complex the branches, the more progressive the Medical Institution. As a starter, we have simply considered the number of Postgraduate Programmes as a mark of Institutional Progressiveness.
Weightage 25%
Score (Number of Approved Postgraduate Programmes)
Normalization Criteria As the number of programmes follow a linear pattern, there is no need of normalization of values as base factor
Parameter 5 – Number of Faculty
Faculty constitutes the knowledge community at a Medical Institution. It has a direct correlation with the quality and progressiveness of the Institution concerned. Though it was difficult to find out this metric from all regulatory and institutional documents, a significant set of institutions do declare the same as a differentiating element of their educational ecosystem.
Weightage 10%
Score (Number of Declared Faculty Members/Minimum Value of Faculty Members in a Medical Institution)
Normalization Criteria Minimum Value of Faculty Members in a Medical Institution has been assumed as 50
Parameter 6 – Facebook Likes
Nothing adds-on to the digital identity and social engagement of an organisation than the simple parameter of Facebook Likes. The avenues of multilateral communication which it opens up is certainly a metric of progressiveness of a particular institution. In the context of an academic institution, it's an invocation of transparency and openness with the risk of being questioned by the members of the general public.
Weightage 10%
Score (Actual Facebook Likes on the Official Page)/(Avg Fb Likes)
Normalization Criteria Average Facebook Likes varies with states

Recommended from all portals