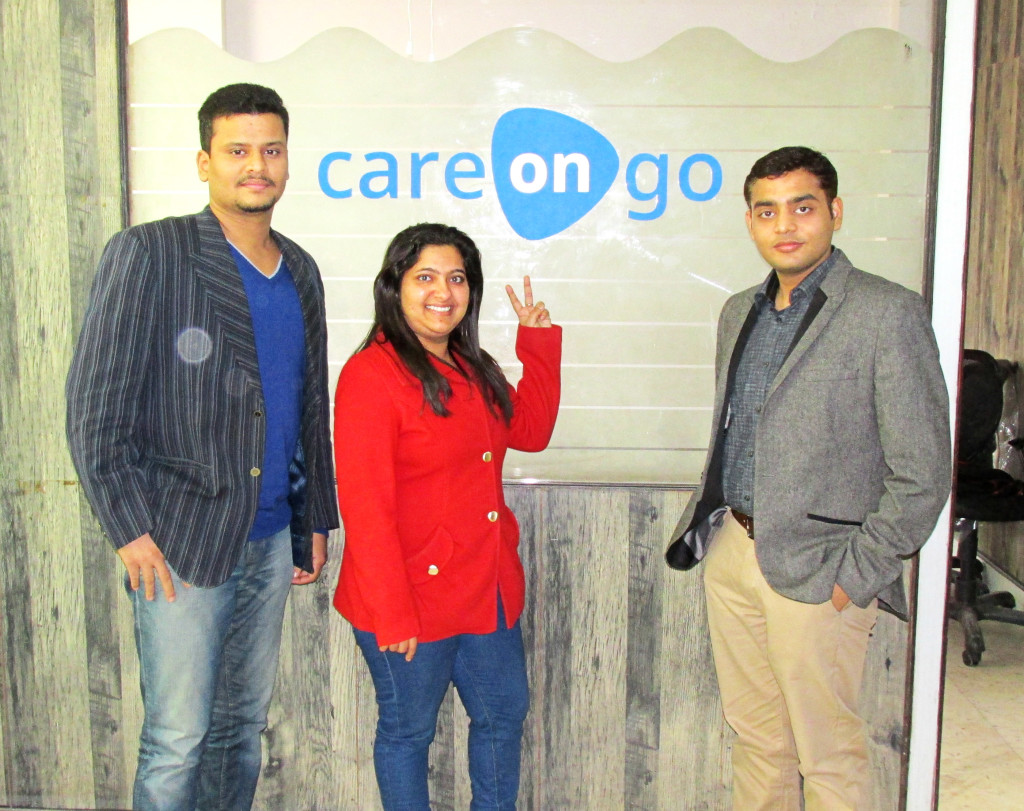 CareOnGo is solving the problem of authenticity and availability of medicines from the entire supply chain, by aggregating the players together. Ritu Singh, Co-founder, Yogesh Agarwal, Co-founder & Aditya Kandoi, Co-founder, CareOnGo, talk more about their venture to Arpit Gupta of Elets News Network (ENN)
What's the core consumer need which CareOnGo intends to address?
The central idea behind CareOnGo has been to solve the problem of drug authenticity (currently the pharmaceutical distribution market has more than 30 per cent counterfeits & spurious medicines), and unavailability (more than 40 per cent of the orders are either partly fulfilled or not fulfilled at all) of medicines.
What gap/opportunity instigated you to start this venture?
Pharmaceutical industry in India is highly unorganised and lacks transparency and trust of the customers. They don't understand the technicalities associated with the medicines, even though they might have been consuming them for over a decade. The entire supply chain uses minimal technology to get their work done which induces various inefficiencies in the supply chain. CareOnGo thereby spotted the opportunity of bringing manufacturers, stockists, retailers and consumers closer by bringing transparency, standardisation and trust of a branded supply chain completely working on the technological backbone.
What defines your platform?
CareOnGo is India's first mobile chain of co-branded pharmacy stores enabling local pharmacies to Procure, Manage & Sell through technology – disrupting the Entire Supply Chain. It connects the entire pharmaceutical supply chain ensuring efficiency and ease of availability of medicines and in the process assists the local pharmacies to grow by increasing their reach and business. By enabling 24×7 operations, and predictive inventory management analysis, CareOnGo sets itself completely apart from the traditional online pharmacy, which deals with only consumer end dynamics. The platform thereby ends up solving the problem of authenticity and availability from the entire supply chain, by aggregating the players together. CareOnGo eventually aims to use its technology to become the first e-distributor in this space.
Status Check
30 per cent counterfeits & spurious medicines

40 per cent of the orders are either partly fulfilled or not fulfilled at all
What policy regulations come in way of your design & delivery?
Unbelievably drug acts primarily consist of Drug and Cosmetics Act 1940, Drugs and Cosmetic Rules 1945, Pharmacy Act 1948 and Indian Medical Act 1956, are all from the primitive times and thereby don't have any focus on technology and innovation. Our platform intends to solve this problem and bring more transparency in the market through technology.
Tell us more about your journey since inception?
We started our operations in August 2015; from a small technology office based out of New Delhi with only 4 tech members. Initially, by bootstrapping with a small capital of 40 lakhs, we were able to launch our first version of the app – which crossed 10,000 downloads in just 15 days. We have currently moved to a bigger set-up in Central Delhi with a strong 14-member technology team. The head office is based out of New Delhi and we have expanded our operational base across Delhi-NCR – Noida, Gurgaon, Faridabad, Ghaziabad, Bangalore, Hyderabad and Kolkata.
What is the USP of the venture? How is it different from its competitors, if any?
Being the first e-distributor for our retail partners with a complete focus on expanding their business reach, CareOnGo is a first of its kind B2B platform. We help local retailers procure products from manufacturers and stockists on the basis of predictive analytics by studying the purchase patterns and supply drivers. Unlike our competitors who are dealing only in the online pharmacy space. We are building up a technology-based ecosystem, which ensures quality and consistency with a turnaround and delivery time unmatched by any other player in the market today.Â
Ticking Factors
Procure, Manage & Sell through a single platforms

Connects the entire pharmaceutical supply chain

Ensuring efficiency & ease of availability of medicines

Increasing reach and business of local pharmacies

Enabling 24×7 operations

Predictive inventory management analysis

Solve the problem of authenticity & availability
What additional features you are developing to support the pharmacy retailing ecosystem?
CareOnGo has recently launched their proprietary "Pharmalytics" platform aimed towards strengthening the logistics and supply chain issues of independent micro pharmacies pan India. The "Pharmalytics" feature will enable these pharmacies to study sales insights of most-selling medicines in their areas along with keeping a track of freshness quotient.Â
Moreover, it will give the pharmacy insightful data like how many patients in that pharmacy's particular area are suffering from diabetes, blood pressure, hypertension, cancer, etc. This will enable the pharmacy to stock up medicines accordingly, allowing them to shift from blind inventory to measured real-time inventory.
What are the various challenges that you face in the market? What are your expectations from the market? Give a brief about your marketing strategy.
Many government regulations around medicines have not been clearly defined creating their own set of challenges in the industry. We refrain from going into any such markets in order to keep ourselves in the green zone. However, this restricts us from doing a lot more for our partner pharmacies than we actually are able to do currently.
Since our launch, we have been getting tremendous response from our end-customers and they have been becoming more open in sharing ideas of what more can be done. Buying medicines is purely based on trust and so we have always been stressing on transparency and openness with all our partners.
In terms of marketing, we believe in the quote 'perfect service guarantees free marketing' and that's what has been working for us. We highly believe in word of mouth publicity. The response has been tremendous both from the consumer and from the investor end so far. Even the investor community understands the need of technological innovation to bring standardisation in healthcare industry.
What are your future expansion plans and goals? Where do you want to see the company five years down the line?
We are currently present in 8 cities and planning to expand to 15 more cities by the year-end. We are in line to launch 18 new categories into our consumer-focused app. We plan to solve the problems of the end-consumers by connecting the dots backwards through technology. Â We are committed to our mission of providing a transparent, trusted, and reliable mobile chain of CareOnGo branded pharmacies. We will also be venturing into diagnostics by bringing the similar solution for local diagnostic labs.

Recommended from all portals