Increasing chronic lifestyle diseases in India and access to professional and affordable healthcare at home, has given Portea Medical in Bengaluru a buzzing start-up in home healthcare services
Concept of professional, accessible and affordable home healthcare in India was virtually non-existent before the advent of Portea Medical in 2013. Few players who existed, were "mom-and-pop†stores which offered an unsophisticated "bedside attendant†service with neither the standards, reliability, accountability, medical knowledge nor the overall professionalism that underpins home healthcare in more advanced nations such as US and UK. Portea has enabled an effective continuum of care for hospitals and their patients that was not easily available, previously, in India.
"Prior to Portea, a family needed to go to several doctors and different locations to cater for geriatric care, basic primary care, post operative care, routine check-ups, and requirements such as diagnostics or medical equipment. We have consolidated the management of all of this and become an active co-participant in the healthcare needs of a family. We don't handle emergency care and refer or assist our patients requiring this to hospitals,†Meena Ganesh, Co-Founder & CEO, Portea Medical told Elets News Network (ENN).
In three years Portea presence is across 24 cities in India and four cities in Malaysia. With nearly 3,000 staffs handle 60,000 visits per month. It has become the largest and fastest growing player in home healthcare services.
"Home healthcare in the country is a very people intensive and execution-oriented business. Ensuring consistent quality across so many cities is a challenge. Portea has addressed this by using a proprietary app and tech platform that displays SOPs for each procedure, allows for clinician monitoring and supervision, and collects all the relevant health-related data to ensure that we have a complete record on the patient's health,†Ganesh said.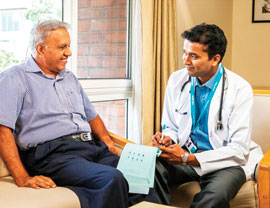 Portea clinicians have access to the Portea app, through which they can access the patient's medical history, check for specific instructions from the patient's consulting specialist; provide real time update of there vital parameters via patient health record (PHR). The firm currently uses America Megatrends's smart diagnostic tool called BOLT which collects patients BP, temperature, and pulse oximetry in a passive manner. This data is then uploaded into data collection architecture.
"We are in the process of creating predictive analytics, which will allow us to proactively intervene when we see a patient's health indicators in a worrisome direction. We have also just launched a patient (customer) app with just three taps; managing appointments, track health records, subscriptions and payments; enabling cashless transactions with Portea wallet; avail offers, and earn through referrals,†she said.
Confident about the home healthcare sector Meena informs that the market is growing with US$ three billion annually and opportunity is huge and attractive.
Talking about venturing in healthcare start up Meena says, "In any economy, a dominant majority nearly 90 percent of the new job creation happens in new ventures and not in old ones. This is of special significance for India where start-ups have contributed to creating millions of blue collar and white collar jobs, directly or indirectly. The entire startup ecosystem today in Bangalore and in India is very conducive to entrepreneurship. What started off in a small way in the late 90s, has inspired many entrepreneurs and I am proud to have been a part of these revolutionary changes. I hope that millions of other ventures bloom in India in the coming years.â€

Recommended from all portals