HealthCare at Home (HCAH) is a service that complements the work done by the doctors in hospitals or clinics at home with sophisticated technology at an affordable price
There are various medical conditions where it is more suited for a patient to get treated at home. With the concept of such services that are already popular in countries such as US and Europe, also a trending practice in India, HealthCare at Home (HCAH) incorporated the idea along with the corporate hospitals and doctors offering specialised home healthcare services. This Delhi-based company is a joint venture between the Dabur India's promoter's Burman family and Dr Gareth Jones and Charles Walsh, the founders of the UK based Healthcare at Home (HAH).
Commenced on April 2013, it has presence in Delhi/ NCR, Chandigarh, Mohali, Punchkula, Jaipur, Bengaluru and targeting states such as Mumbai, Chennai, Hyderabad, Pune, Ahemdabad, Kolkata and Surat to have its footprints. The Burman family owns 65 per cent stake in the joint venture company and the 35 per cent Dr Gareth Jones and Charles Walsh. "The Burman's has a committed capital of Rs 200 crore for first five years", said Healthcare at Home India Co-founder and Chief Executive Vivek Srivastava.
The servicesprovided by the company include oncology (cancer care), pulmonology (lung care), post-operative care (orthopedic, cardiac, bariatric, weight loss surgery etc), critical care and palliative care it also offers care for elderly care and medical companionship programme. The cost advantage is what attracts the patients. The company claims to provide identical services of a day's ICU stay in a prominent hospital at half the price.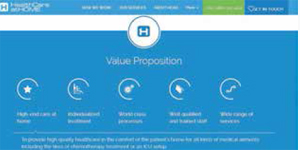 The company provides the nursing and the support staff with a tablet with an installed its own developed Patient Care Service software to store critical date on patients, which is transmitted to the company's back-end team and the treating doctors. "This helps doctors to monitor patients on a real time basis and make the necessary changes in treatment if needed", Dr. Gaurav Thukral, Head, Medical Services, Healthcare at Home India. All the data of HCAH is accumulated in a single database. This helps in creating a complete patient history, with exact timelines, which can be shared with the doctors presenting them with a complete picture of patient's condition.
The joint venture presently employees nearly 250 employees and also plans to hire around 2,250 people by the year 2017. "We want to build this company to a thousand crore company by 2020 and to make pan- India presence in the next couple of years", said Vivek Srivastava.

Recommended from all portals