The government's desire to increase the reach through PPP models and make primary care available in remote areas will give impetus to growth
Computed tomography (CT) has emerged as the most useful and practically-feasible imaging modality in a host of clinical conditions in routine practice. This is predominantly due to the speed of data acquisition, excellent spatial resolution and multi-planer capabilities of the present-day CT scanners. In fact, computed tomography is one of the major contributors to the growth of the medical imaging industry in India. Continuous upgradation in CT technologies is a common trend. Due to the introduction of various new applications and the combination of nuclear medicine with CT technologies, the disease coverage capabilities of CT are increasing over time. CT scans can detect various diseases and the continuous improvement in image quality has facilitated greater accuracy in diagnosis. Oncology and cardiology are mainly driving the CT scanner market.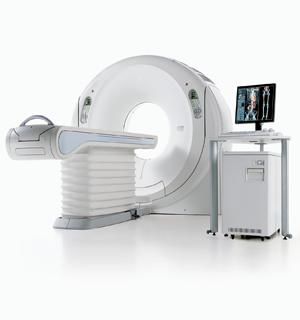 Global Market
It is estimated that approximately 81.2 million CT procedures were performed in US in 2014, which is seven per cent higher than the procedures performed in 2013. The global CT scanners market is expected to grow 5.5 per cent to US$ 5.1 billion in 2018.
Asia-Pacific market is expected to increase from US $1.4 billion in 2012 to US$ 2.2 billion in 2017, a CAGR of 9.8 per cent. The European CT scanner market was estimated at US$ 1.1 billion in 2012, and it is anticipated to reach US$ 1.3 billion by 2017, at a CAGR of 3.7 per cent. North America is expected to see even slower growth.
The CT scanners market can be segmented into low end, mid-end and high-end market. Low-end segment includes single and dual slice CT scanners, mid-end segment includes multi-slice scanners such as 6, 10, 16 and 32 slice and the high-end includes 40 slice, 64 slice, open versions, and cardiac CT.
Buyers in metro, mini-metro, and tier-I markets are increasingly showing preference for 16-slice CTs over single/dual slice CTs
The innovative cycle of CT scanner is becoming very short as the new and latest technology is being introduced in the market with each being more efficient and faster. There is an increasing trend of high slice CT that are expected to improve the clinical utility significantly as the introduction of 256 slice scanner would be having detector width of 10 to 12 cm, which would help in scanning an organ, including brain,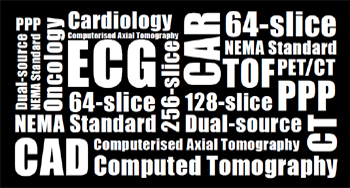 heart, entire joints, and lungs and liver, in a single rotation. It is also expected to scan the heart with the single heartbeat.
The combination of product enhancements and the need to cut radiation dose levels is fuelling the market. A new federal standard passed into law last year, NEMA (National Electrical Manufacturers Association) Standard XR-29, defining low dose standards and punishing providers not in compliance will help growth of the market.
These standards include dose structured reporting, dose check features, automatic exposure control and reference adult and paediatric protocols. A provision in federal legislation signed into law in April 2014 to delay Medicare Sustainable Growth Rate cuts required health care providers to comply with those standards. NEMA Standard XR-29-2013 for improved CT radiation safety. Equipment not in compliance by January 1, 2016, will be subject to a five per cent /per scan technical component reduction on diagnostic CT procedures billed in physician office and hospital outpatient settings. The reduction will increase to 15 per cent January 1, 2017.
Market Trends
Buyers
*
Buyers in metro, mini-metro, and tier-I markets are increasingly showing preference for 16-slice CTs over single/dual
slice CTs
*
Buyers are looking for more value-added services like marketing support, lifecycle management, business consulting, and upgradeability options from original equipment manufacturers
*
The market for high-end CT scanners includes large corporate hospitals that leverage new technologies to assert their international brand and tap into the burgeoning medical tourism industry. For example, Apollo Hospital in Chennai has the 320-detector-row CT scanner from Toshiba Medical Systems. Sir H.N. Reliance Foundation Hospital in Mumbai, another hospital reliant on medical tourism, has the elite Somatom Force CT scanner from Siemens Healthcare
*
The trend for mobile scanners has gained strength in the last year with CT, hospitals like AIIMS, Apollo, Sahayadri Hospital, JPN Apex Trauma Centre, Sahara Hospital, and Fortis Hospital are using mobile CT scanners thereby extending radiology reach to point-of-care imaging
Radiation Dose
*
Radiation dose awareness is influencing more buyers to adopt advanced technologies like Time-of-Flight that reduces the radiation dose to patients without affecting the image quality
Wider detector coverage
*
State of the art: 64-slice CT has 3.2 to 4.0 cm detector width
*
Work-in-progress: 128-slice and 256-slice CT for up to 16 cm wide detector coverage
Major Players
Indian CT Scanners market is dominated by three brands, GE, Philips, and Siemens with a combined market share of 90 per cent. Other aggressive players include Toshiba, Schiller, Sanrad, Cura, Trivitron, Shimadzu, Blue Star, Komega, and Med Rad.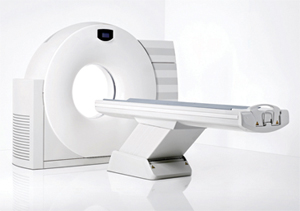 GE Healthcare: GE Healthcare has introduced its Discovery IQ PET/CT system, which became US. Food and Drug Administration (FDA) cleared in September. It enables both high image quality and intelligent quantitation. According to the company, it delivers the highest NEMA sensitivity (up to 22 cps/kBq) and the largest axial field-of-view (up to 26 cm) compared to other PET/CT equipment.
GE's new Q.Clear image reconstruction software is a big component of Discovery IQ, eliminating trade-offs between image quality and quantitative SUV measurements. By providing two times improvement in both quantitative accuracy (SUV mean) and image quality (SNR) in PET/ CT imaging, this new tool provides benefits to physicians across the cancer care continuum from diagnosis and staging to treatment planning and assessment. Over the last decade, PET image reconstruction technology has been designed to provide better image quality, reduced acquisition time and lower injected dose. Current PET iterative reconstruction technologies, such as time of flight (TOF) and ordered-subsets expectation maximisation (OSEM), force a compromise between image quality and quantitation, GE said.
The Discovery IQ uses GE's new Light Burst detector technology, allowing for whole organ imaging via fast scans at low dose. It also uses fast electronics and a dual acquisition channel that enables high quantitative accuracy for all clinically relevant tracers.
Siemens Healthcare: In 2013, Siemens Healthcare introduced the Biograph mCT Flow PET/CT system that overcomes the limitations of conventional bed-based PET/ CT. It uses Siemens' FlowMotion technology that moves the patient smoothly through the system's gantry while continuously acquiring PET data. FlowMotion expands quantification in all dimensions for precise disease characterisation in therapy monitoring, while enabling physicians to offer as low as reasonably achievable (ALARA) dose to every patient. The scanner uses a 78 cm bore with five-minute scanning and a continuous sense of progress throughout the scan provides the patient with a more comfortable exam experience.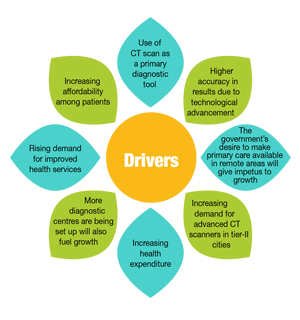 Conventional PET/CT suffers from intrinsic sensitivity degradation from the centre to the edge of the axial FOV. Overlapping sequential bed positions are used to compensate for this constraint, but this approach can lead to axially varying noise sensitivity. This noise can distort the quantitative values of a detected lesion, which may prompt a physician to mis characterise the severity of a tumour. By continuously moving the patient through the detection system, Flow Motion technology eliminates overlapping bed acquisitions and maintains uniform noise sensitivity across the entire scan range.
Philips: The Philips Vereos is the first PET/CT on the market to offer digital PET detectors, allowing improved image clarity over traditional analogue photomultipliers. The system was first unveiled at RSNA 2013. It uses Philips' digital photon counting technology in its digital silicon detectors. Philips said this result in a step change in performance that approximately doubles sensitivity gain, volumetric resolution and quantitative accuracy compared to analogue systems. These radical improvements can ultimately be translated into high image quality, increased diagnostic confidence, improved treatment planning and faster workflows.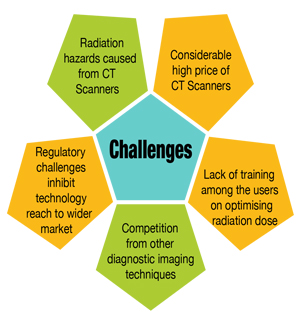 | | | |
| --- | --- | --- |
| | | |
| | Multi-source CT | |
| * | With gantry rotation speed near its maximum, this solution may be the only way to improve temporal resolution | |
| | Workflow | |
| * | Computer-aided reading (CAR) and Detection (CAD), Advanced visualisation and 3-D/4-D imaging | |
| | More efficient scanner software | |
| * | Improved clinical applications, in particular cardiac imaging packages | |
| | Dose reduction | |
| * | Improvements in hardware allow faster procedures, noise reduction | |
| * | Advanced techniques and algorithms: Automatic exposur | |

Recommended from all portals