Current trends in flow cytometry are helping to drive increased adoption of this technology in clinical testing, pharmaceutical studies, and basic research in novel areas. Anshuman Ojha of Elets News Network (ENN) has more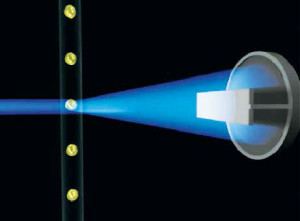 Flow cytometry established itself as a valuable research tool several decades ago. It now has become a major asset in the diagnosis, prognosis, and monitoring of many medical disorders in addition to some commercial applications. Flow cytometers were initially large and somewhat cumbersome instruments, but have evolved into table-top, userfriendly, multi-functional ones. Over the years, clinical laboratory scientists have found additional ways to utilize flow cytometry that go well beyond simple particle counting. Today's flow cytometers are used in cell differentiation, chromosome analysis, cellular immunology, clinical hematology, cancer diagnosis, pharmacology, and toxicology, to name a few applications. Though primarily used in monitoring immunocompromised (HIV+) patients and in the diagnosis and prognosis of different blood cancers, their utility has extended into other areas of science and industry. Understanding the science behind flow cytometry helps us to appreciate its usefulness and importance in the clinical laboratory.
Beginning in the 1940s, a number of technological advances in flow cytometry were applied to clinical practices in order to better understand the morphology, kinetics, and structures of various cell types, bacteria, and other microscopic particles. Clinical laboratory application of flow cytometry became particularly relevant with the advent of monoclonal antibodies. With the addition of powerful lasers, highly sensitive photomultiplier tubes (PMTs), and computer technology, the sensitivity and accuracy of crude flow cytometers were greatly improved.
Global Market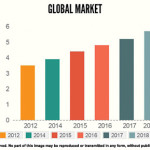 Flow cytometers measure and analyses cells of various characterisations through a light beam that is passed through a suspension of fluid. Several properties of the cell structure and functions can be studied with the help of this technique. The global flow cytometry market was valued US$ 3.9 billion in 2014, and is expected to reach a value of US$ 5.7 billion by 2018, experiencing a CAGR of 10.3 percent. North America has the highest share in revenue generated by the current flow cytometry market and is expected to remain the leading revenue generator till 2018.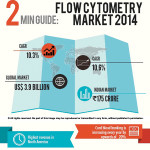 Geographically, the global flow cytometry market is divided into four regions, North America, Europe, Asia-Pacific, and Rest of the World (RoW). North America and a major part of the European region are saturated markets for this product. North America accounted for the largest share of the global market in 2014. This growth is attributed to a number of factors such as presence of flow cytometry associations in this region, increasing use of flow cytometry techniques in cancer research, rise in investment initiatives by the government, and high quality infrastructure for clinical and laboratory research. The emerging markets including China and India are becoming attractive for the companies engaged in the development and marketing of the products.
Various economic developments and growing prevalence of HIV/AIDS, increase in scope of application areas such as drug discovery, stem cell sorting, marine biology, growing number of research initiatives, increasing government support, and growing focus of both international and domestic players are the key factors propelling the demand for flow cytometry products in the Asia-Pacific region.
One of the emerging trends in the market is the increase in outsourcing by a large number of drug manufacturers. They outsource the drug discovery and development processes to CROs, which provide a better quality of service and reduce lead time.
The major compelling factor of flow cytometry technology is the advancement in the technology such as need for labeling multiple antibodies and multiple image capturing instruments. Comparing to other methods, the flow cytometry technology has many advantages such as accessibility in broader use, auto calibration and easy to handle instruments. They have taken over the conventional methods, due to its advantages.
Flow cytometry in immunotyping has undergone many changes; this is one of the major applications of flow cytometry. The technology provides detailed quantitative analysis about the cell counts and antigen expression. This technology is very sensitive when compared with the conventional methods. Immunophenotyping is used in the application of haematology. The cytometric analysis is easy in haematology applications due to the hematopoietic distribution system.
Key factors restraining the market include high instrument costs and size, lack of awareness among probable users and need for trained personnel. The costs of the instruments vary depending on the size, technology used and present features of the instrument. The flow cytometry technology is becoming popular for research and clinical purposes, yet there is lack of awareness among the users. Most of the users are not aware of the advanced development in the flow cytometry technology and believe that the instruments are space consuming, complex in use and are of high cost, thus affecting the market growth.
Indian Market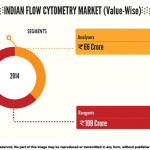 In 2014, the flow cytometry market is estimated at `175 crore. The analysers saw sales of 112 units, valued at `66 crore. A discerning shift in the buying pattern is observed over the last couple of years, with laboratories giving a higher priority to flow cytometry.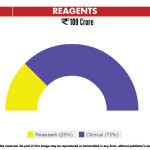 Reagents accounted for 62.3 percent of the flow cytometry market, valued at Rs.109 crore. The National Aids Control Organization (NACO) did not make any procurement of flow cytometer in 2014. The last time it made a purchase was in the year 2010, and it has made procurements only three times in the last eight years. However, despite being an occasional procurer, NACO still remains one of the largest purchasers of the HIV clinical reagents.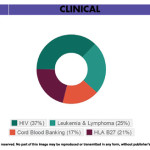 Indian flow cytometry market continues to be dominated by BD Biosciences, followed by Beckman Coulter. Other aggressive players include Partec, Millipore (acquired by Merck), Amnis Corporation (represented by Imperial life Sciences) and Dako (represented by Suyog Diagnostics).
Indian flow cytometry market continues to be dominated by BD Biosciences, followed by Beckman Coulter. Other aggressive players include Partec, Millipore (acquired by Merck), Amnis Corporation (represented by Imperial life Sciences) and Dako (represented by Suyog Diagnostics)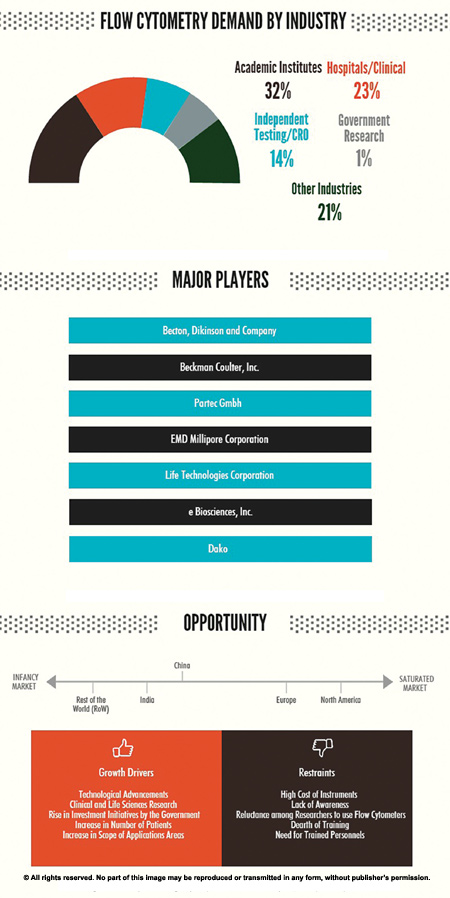 Major Players
Becton Dickinson continues to advance instrument systems to make flow cytometry analyzers and cell sorters more powerful, more dependable and easier to use. From easy to use benchtop systems to special order systems to fit your unique needs. Its cell analysers and sorter range includes BD FACS Aria Fusion, BD Accuri C6, BD LSR Fortessa X-20, BD FACSCanto II, and BD Influx, BD FACS JAZZ and BD FACSVerse. Last year BD Biosciences and Jamia Hamdard University has announced FACS e-LEARN – a joint online learning program in cell research and diagnostic for young scientists and researchers. These programs are designed for professionals who are already in a job or a regular academic program. The web module and e-mail support program will be followed by a hands-on experience on flow cytometry instruments and applications.
The company has also established Centers of Excellence in flow cytometry through collaborative partnership with several academic institutes of repute.
Beckman Coulter delivers comprehensive, innovative system solutions that address the principal steps in today's diverse laboratory processes. From basic cellular analysis research to advanced cell sorting methods and flow cytometry applications, the company offers flexible solutions that meet evolving needs.
Beckman Coulter's complete range of automation and information systems helps you streamline processes for maximum efficiency. From delivery of more timely, accurate and reliable patient test results to the elimination of bottlenecks, our automation and information system solutions empower you to manage lab operations more efficiently and cost-effectively. Its range includes CytoFLEX, Gallios, Navios, FC 500 Series and CyAn ADP Analyzer. MoFlo series includes highspeed, improved sensitivity, and reliable cell sorters with 32 bits and modular feature as per customer's need. The MoFlo Astrios is the new standard for cell sorting with functionality, speed, and improved sensitivity. It is designed for researchers who desire high productivity with more analytical capability and with biosafety solutions. The ergonomic design of Astrios makes it faster and easier to operate.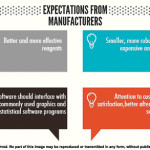 Merck Millipore's cellular analysis platforms give you instant access to all facets of cellular phenotypes. From simple and quick cell counts, multidimensional cell health assessments, and sophisticated multiparameter measurements on individual cells, our cell analysis equipment enhances your experiments, delivering more predictive and reliable data than other cell analysis instruments. Amnis imaging flow cytometers are the game-changer in cellular analysis, providing in-depth analysis and detailed imagery of every individual cell and hard to reach subpopulations. The guava easyCyte flow cytometry systems are cost-effective, easy to use and deliver complete and comprehensive cell analysis- right on your benchtop. Muse, is a personalized cell analyser. The company has miniaturised cytometry and packed 3-parameter analysis into a compact, affordable instrument, bringing cell analysis to every benchtop.
Amnis, from Imperial Life Sciences, proudly introduces the new ImageStreamX tremendous leap forward in cell analysis. Amnis has dedicated 10 years to combining the most advanced technologies in optics, sensors, and image processing to achieve what has never been possible before – a fusion of the analytical power of flow cytometry with the visual detail of imaging. The ImageStreamX quantifies both the intensity and the location of fluorescent probes and can image at incredibly high rates of speed, allowing you to analyse rare subpopulations and highly heterogeneous samples with statistically robust and objective results. By combining the detailed imagery and functional insights of microscopy, the ImageStreamX will rapidly advance your research.
Technological Advancements
• Innovation in Instruments
A typical flow cytometers are comprised of a fluidic system, an optical system, detection electronics and data acquisition. When a particle traverses the light, a pulse of scattered or fluorescent light is generated and then analysed. Several independent optical measurements are usually performed per cell and stored on a per cell basis in a computer file. Advances in lasers and detectors have reduced the size and increased the performance of modern flow cytometers. About 20 different measurements can be performed simultaneously on a cell with this approach at rates of up to 100,000 cells per second. A recent development extends the number of measurements to about 50 markers simultaneously by using element labels with ICP mass spectrometric detection rather than optical labels. On-going research aims at matching the MS performance by using full spectral analysis of fluorescence but also at higher levels of multiplexing with surface enhanced Raman labels. Measuring more parameters helps to better differentiate between rare cells and background, resulting in an increase of specificity.
Most of the users are not aware of the advanced development in the flow cytometry technology and believe that the instruments are space consuming, complex in use and are of high cost, thus affecting the market growth
• Innovation in Reagents
Monoclonal antibodies, reactive with cell surface markers and conjugated with fluorescein, were used to measure the lymphocyte populations of B-cells, T-cells and the helper and suppressor cell subsets of T-cells with early flow cytometers. In the meantime more than 300 cellular markers have been assigned a cluster designation (CD number). Antibodies have been complemented with additional affinity reagents such as aptamers, molecular imprints and others. In addition to affinity reagents for proteins, nucleic acid-based assays also provide increased applications in cytometry. Improvements in amplification technology now allow the detection and counting of single RNA molecules in single cells using flow cytometry.
North America has the highest share in revenue generated by the current flow cytometry market and is expected to remain the leading revenue generator till 2018
• Innovation in Cell Sorting
In recent years, the number of applications for separating and analysing bacterial types has increased enormously as a consequence of the improvement in available sorting technology. High-end flow cytometers have the capability to sort cells in real time, based on the analysis approach described above. Analysis rates of up to 100,000 cells per second are possible; special thresholding allows even higher cell throughput by only analysing the easily identified subset of interest. This makes flow cytometric sorters the key choice for further characterisation of single rare cells using genomic single cell technologies after sorting, or for selected populations using proteomic analyses.
Fluorescence activated cell sorters have long been based on jet-in-air, electrostatic droplet deflection designs. Considerable progress has been made in the speed and accuracy of cell sorting. Micro-fluidic flow cytometers have been under development for a number of years and show impressive progress in miniaturising flow cytometric analysis. The parallelisation of flow analysis to comprise simultaneously operating flow analysis and sorting represents an innovative step to increase the processing of individual cells. Cytonome/ ST researchers have demonstrated robust identification of extremely rare target particles. Using Cytonome/ST's existing parallel detection technology and cross contamination-free sample system, the researchers were able to reliably identify 60 fluorescent target particles within a sample of 640 million non-fluorescent particles in less than one hour. Parallelisation of analysis and sorting overcomes the limitations of single channel processing and allows direct analysis of large sample volumes.
The global flow cytometry market was valued US$ 3.9 billion in 2014, and is expected to reach a value of US$ 5.7 billion by 2018, experiencing a CAGR of 10.3 percent.
• Innovation in Drug Development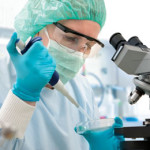 For several decades, pharmaceutical discovery has been driven by the increasing industrialisation of biological assays. This, coupled with significant improvements in chemical synthesis, has lead to the widespread practice of high throughput screening, whereby assay densities have increased from plates of 96 wells to 384 and 1536 wells. Rapid biochemical assay formats and analysis combined with rapid chemical design and synthesis have revolutionised Quantitative Structure Activity Relationship studies. Taken together with a concomitant focus on molecular reductionism, driven by advances in genomics technology and sequencing, the result has been an industrial wide focus on target-based discovery. Recently, however, in light of the clear industry wide failure to generate significant New Chemical Entities (NCE), there has been a call to redirect screening technologies away from putative targets and engage in Phenotypic screening and Physiologically Relevant assays.
Although phenotypic screening can be interpreted to mean different things, it is generally used to imply an assay for a systemic biological response of a cell or organism. Its definition has come to include the analysis of previously undetected correlated changes that can be increasingly detected and statistically rationalised by analysis of high content data. Highly dimensional data allows investigators to look for and identify nodes, or intersecting points of signal transduction, that occur when a system is perturbed. High content cytometric data and the techniques of rare cell analysis can identify relapsing tumours and, based on the phospho-signalling status of pathways of interest, can guide physicians to a targeted chemotherapy as well as identify potential targets for future drug development.
Overall technical advancements being made across the spectrum of hardware, software and 'wet-ware' biological tools are making deep and disruptive impacts in many fundamental disciplines within clinical application of cytometry and the whole of drug discovery.

Recommended from all portals