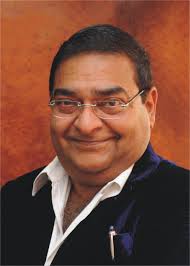 Dr Mukesh Batra, Padma Shri recipient, India's most-renowned homeopath, and Founder-Chairman of Dr Batra's® Group, was honoured with the 'Lifetime Achievement Award' for his service in homeopathy by the World Medical Council (WMC), in presence of world leaders in healthcare at a glittering award function held in Dubai.
World Medical Council is a non-profit forum designed for the continuous and conscious development of the medical industry. A panel of external experts which includes researchers, academicians, journalists, professionals and a Nobel laureate from the healthcare sector, awarded Dr Batra with the Lifetime Achievement Award (Homeopathy) for his phenomenal contribution in the Healthcare space through Homeopathy. The 'Lifetime Achievement Award' recognizes personalities whose outstanding career achievements have earned them national or international prominence. It also pays tribute to those who have demonstrated the highest level of professionalism and serves as a role model for current and future healthcare professionals.
Accepting the award, Dr Mukesh Batra, Padma Shri Recipient, Founder-Chairman of Dr Batra's Group of Companies said, "I feel honoured and humbled to receive world recognition for my efforts to promote homeopathy. The award accords due and deserving recognition to homeopathy – the world's second-largest medical system, according to WHO. Homeopathy is used by over 500 million people worldwide; it is practiced in over 85 countries. It is also fast emerging as the treatment of first choice for an increasing number of people – which includes commoners, celebrities and royalty too. The journey for me has been challenging yet fulfilling. The core belief on which I have built my company is to provide health and wellness to those in need, through cost-effective and safe homeopathy, along with the best of scientific and technological advance."
Despite having received an array of awards and honours, Dr Mukesh Batra is a man who is still rooted in his moorings and revels in the joy of giving. Beginning as a modest clinic in Mumbai in 1982, Dr Batra's Positive Health Clinic is today the world's largest homeopathic healthcare corporate with 143 clinics spread across 73 cities in India, Dubai and UK. Dr Batra's popularized homeopathy in the UAE by opening first of its kind clinic in Dubai Healthcare city and to expand our reach, we recently opened another clinic in Jumeirah Lake Towers. Dr Batra has created ample awareness and popularized the goodness of homeopathy via his writings in newspapers, magazines and books, and appearances on TV programmes.
Conscious of its societal responsibilities, Dr Batra's community-centric arm, Positive Health Foundation provides free homeopathic treatment to more than 20,000 patients through Positive Health Clinics across 73 cities. The Foundation also extends homeopathic treatment and care to animal welfare shelters, orphanages and old age homes. Dr Batra also introduced the Positive Health Annual Awards, seven years ago, sponsored by Bajaj Discover, to recognise and honour specially-abled individuals, who have overcome disease and disability to lead useful lives.

Recommended from all portals