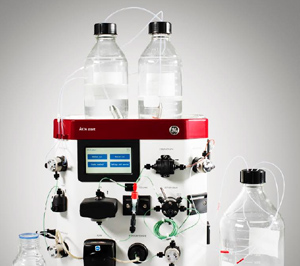 ÄKTA start™ brings automated and reliable protein purification affordable to wider Life Sciences Community
Bangalore, India – 9 December 2013– GE Healthcare Life Sciences, a business unit of GE Healthcare (NYSE: GE) announces the launch of ÄKTA™ start, a compact, affordable and easy-to-use preparative chromatography system for laboratory-scale protein purification. ÄKTA start is the latest addition to GE's new generation of ÄKTA systems and the first product designed and developed by the company's research and development center in India, for the world. ÄKTA, in Swedish, means true, genuine or real.
GE pioneered the design, development and manufacture, through reverse innovation, of medical imaging technologies in India for India and the world and is focused on developing technologies that make healthcare more accessible and affordable around the world.
"ÄKTA start breaks new ground as our first India-designed Life Sciences product, improving affordability and helping accelerate research and innovation in India. We hope this will also improve access for academia and help India's next generation of scientists get practical experience in protein purification," said Anurag Gupta, Managing Director, Life Sciences, GE Healthcare, India.
"Biochemistry and biotechnology students are often taught chromatography without getting any practical hands-on experience with a chromatographic instrument. I am impressed to see how the new ÄKTA start system places all the important 'organs' of a protein purification system outside the plastic/metal casing with the entire flow-path visible, and available, to be taken apart and maintained by the user. The cost is low enough for undergraduate students to be allowed to 'play' with the instrument, without any major concerns. I am pleased that we are obtaining the very first unit of ÄKTA start in India, and hope that hundreds of undergraduates and graduates will learn chromatography using it over the coming years." said Prof. P Guptasarma, Head, Department of Biological Sciences at the Indian Institute of Science, Education and Research (IISER), Mohali "
Protein purification is a laborious process that isolates a single type of protein from a complex biological mixture, and is essential in developing bio-pharmaceutical drugs used in the treatment of diseases such as cancer, viral diseases and when developing vaccines.
ÄKTA start helps researchers eliminate the hassle of manual protein purification, while providing automated control of the purification procedure. Its affordability will allow more researchers to take advantage of GE Healthcare Life Sciences' protein purification expertise and experience.
India is one of the largest producers and exporters of generic drugs and it is fast emerging in the bio-pharmaceutical space, with more than 20,000 educational and research institutions preparing the next generation of bio-researchers and scientists.
GE Healthcare Life Sciences provides expertise and tools for a wide range of applications, including basic research of cells and proteins, drug discovery research, as well as technologies for start-to-finish large-scale manufacturing of biopharmaceuticals and medical imaging. The company has been steadily increasing its footprint in India through the establishment of an R&D center, Fast Trak BioPharma Services that support India's rapidly growing bio pharmaceutical industry, and a customer training and education center in Bangalore. Its extensive range of products are, for example, used for dope testing in Indian Sports, forensics/human identification by the Indian Army, and filter papers by steel, cement, water, beverages and healthcare industries.

Recommended from all portals