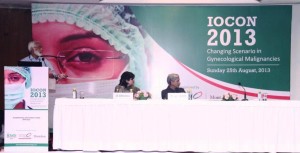 Fortis Hospital Noida, along with International Oncology Cancer Center and Montefiore Cancer Center, New York organized an International Conference on 'Changing Scenario in Gynecological Malignances': IOCON-2013at the Indian Habitat Centre, New Delhi. The conference was attended by well-known experts in the field of Medical, Radiation and Surgical Oncologists along with Gynecologists and other specialty doctors. The objective of this one day conference was to discuss and share the current evidence based standards and emerging concepts in Oncology Cancer.
Various relevant and pertinent aspects of management of gynecological cancers from prevention, screening, treatment modalities like Radiation Therapy, Chemotherapy and Surgery and Rehabilitation were discussed with emphasis on bringing newer advances in technology into the realm of modern clinical practice. The conference also featured multi-specialty panel discussions on various aspects of treatment reflecting the importance of multi-disciplinary management of these cancers.
Mr. Sukhmeet Sandhu, Zonal Director, Fortis Healthcare commented, "There has been a significant advancement in cancer research and management over past few decades yet; it still remains a leading cause of death worldwide. Our endeavor is to raise awareness and educate people on how cancer can be cured and on the importance of an early detection."
Speaking on the occasion Mr Pradeep Jai Singh, MD & CEO, International Oncology said, "Being a center of excellence in Gynecological malignancies, the conference is an effort and reiteration of our commitment towards prevention and screening of cancers. We hope to make more consumers aware of this disease and its management at the various stages in a positive approach."
"Gynecological cancers are highly prevalent in our society collectively making 40-50% of cancer affecting the female population. Cancer of cervix, ovaries and uterine cancers are the three of top 5 cancers that affect women in India of which cancer of the cervix is the most common. With advancements in new technologies, a higher cure rates can be expected."
The Scientific Committee of IOCON – 2013, emphasized that not only do the gynecological cancers comprise of the bulk of cancer burden in our country but also with the implementation of state of the art treatment technologies, higher cure rates can be expected.
About Fortis Healthcare Limited
Fortis Healthcare Limited is an integrated healthcare delivery service provider in Asia. The healthcare verticals of the company span primary care, diagnostics, day care specialty and hospitals, with a healthcare network spanning 8 countries. Currently, the company operates its healthcare delivery network in India, Hong Kong, Singapore, Vietnam, Dubai, Mauritius and Sri Lanka, with 70 healthcare facilities (including projects under development), over 11,000 potential beds, over 600 primary care centres, over 240 diagnostic centres and over 20,000 employees together with approximately 2,000 people employed at our managed healthcare facilities.
About International Oncology
International Oncology is a global cancer care and research company focused on providing world class cancer treatment and care. The company is at the forefront of bringing the very best in cancer care to India through expertise, research and collaboration. International Oncology is committed to making world class cancer care accessible to the underserved areas through their network of cancer care centres.
After establishing their flagship centres at Noida and Mumbai, the company is in the process of launching comprehensive cancer care centres in states like Rajasthan, Punjab, Maharashtra and others. In the outreach programme, the company has tied up with various hospitals in Ghaziabad, Aligarh, Moradabad, Imphal and Panipat to make world class cancer care more accessible.

Recommended from all portals