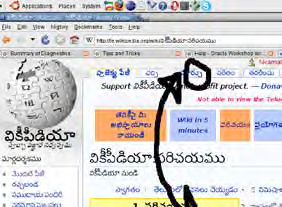 Name of the project: MAARPU -'the change'
Applicant: National Rural Health Mission Andhra Pradesh(AP)
Implementing agency:  Department of Health & Family Welfare
About the project: Maarpu, a health initiative, was taken up as a pilot project in Karimnagar District (AP) in July 2011 and after successful implementation scaled up for implementation in state of Andhra Pradesh in September 2012. The programme focuses on the reduction of maternal and infant mortality in rural India. It concentrates on regular pre-natal monitoring of health & nutrition status of pregnant women, safe institutional deliveries etc.
Objective: To increase in institutional deliveries in government sector and to bring down the cost of basic healthcare.
Target group: Expectant mother & infants, especially in rural areas.
Strength areas: Use of technology to make institutional changes to improve health parameters especially IMR & MMR. Improved service delivery by community participation through SHG & mid course rectification, use of SKYPE to keep a real time watch on functioning of this programme, use of Mother & Child Tracking System and sending regular SMS alerts to the pregnant women are some of the strength areas of the project.
Achievements: Improved health parameters, increased institutional deliveries & reduced IMR&MMR. The initiative
has benefitted poor to access government health machinery.
Key challenges: To reach healthcare to farflung, inaccessible villages was a real challenge which we sailed through using technology. A lacuna in experience & training was overcome by holding various hands on training sessions.