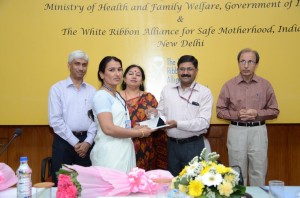 Factfile
India ranks 75 out of 77 middle income countries on the index 'Best Place to be a Mother.'

57.9 % of pregnant women aged between 15-49 were found to be anaemic.

Each year as many as 63,000 Indian women die needlessly during pregnancy and childbirth. This accounts to 20 % of all maternal deaths worldwide.

47.4 % of the women in India marry before they reach the age of 18 years.

16 % of the women in the country are either pregnant or have had their first baby by the age of 19 years.

11th April marks the birthday of Kasturba Gandhi.
FAQs
What is Safe Motherhood ?
Safe Motherhood means ensuring that all women receive the care they need to be safe and healthy through pregnancy and childbirth. Safe Motherhood embodies the philosophy that 'no woman should die due to pregnancy or childbirth related causes.'
What is Maternal Mortality ?
"The death of a woman while pregnant or within 42 days of termination of pregnancy ( irrespective of the duration and the site of the pregnancy) from any cause related to or aggravated by the pregnancy or its management. However, the term does not encompass death due to accident or incidental causes." (WHO)
The consequences of Maternal Deaths ?
Children who lose their mothers suffer the most. Studies point out that children who have lost their mothers are ten times more likely to die within two years than those with both parents alive. Motherless children are less likely to receive healthcare and education as they grow up. Girls, in particular, suffer because they are forced to drop out of school to look after their younger siblings.
How can Maternal Mortality be reduced ?
Empower women by creating awareness.

Address gender inequalities and discrimination that limit women's choices and contribute directly to their ill health and death.

Realize that  every pregnancy faces risks. Every pregnant woman – even if she is well nourished and well educated – can develop sudden, life threatening complications that require obstetric care. Maternal health programs must aim to ensure that all women have access to essential services.

Ensure adequate and appropriate  ante natal, post natal and newborn care. After delivery, women are most vulnerable to dying from complications.

Enhance health and nutritional interventions. Safe deliveries are largely dependent on the basic health of the women as well as health during pregnancy. Securing Safe Motherhood requires securing the health of women throughout the life cycle.

Ensure access to healthcare facilities that provide life saving services for pregnancy and delivery complications such as emergency obstetric care and blood transfusion.

Ensure skilled attendance during childbirth. Availability and service of skilled attendance at birth reduces chances of maternal deaths.



India has seen considerable progress in bringing down the number of women dying due to childbirth related causes. India has reduced MMR significantly from 437 per one lakh live births in 1999 to 212 now
The current Maternal Mortality Rate (MMR) of India is 212 per one lakh live births, whereas the country`s Millennium Development Goal (MDG) target in this respect is 109 per one lakh live births by 2015.
India is moving well on MMR. We have made progress in this regard. The MMR recorded a 38 per cent decline in maternal deaths between 1999 and 2009. There has been progress but we are not there just yet.
Over the last few decades, the country has taken many initiatives and made progress. With the implementation of schemes like Janani Suraksha Yojana by Government of India we have been able to bring the women in the institutional fold. Government of India has also taken several policy decisions to improve quality in service delivery. Apart from strengthening infrastructure of health facilities Auxiliary Nurse Midwives (ANMs), Staff Nurses (SNs) and Lady health visitors (LHVs) are being trained as skilled birth attendants, MBBS doctors are being trained in Essential life saving obstetric and anaesthetic skills.
Every year, on 11th April, India observes National Safe Motherhood Day so that citizens, communities and other stakeholders take a pause and deliberate on the maternal health situation in the country and look at what interventions are working and what more is needed to be done.
Health workers are critical to saving lives, they are the single most important resource of any health service. Without them, no vaccine can be administered, no life-saving drugs prescribed, no family planning advice provided and no woman can receive skilled care during childbirth.
Frontline health workers are the first and often the only link to health care for millions of people living in our countries. We know that a good health workforce with skills in planning, managing and providing preventive and curative health care is one of the key determinants of good health.
The Ministry of Health and Family Welfare, Government of India has instituted National Safe Motherhood Awards for Health providers which will be awarded annually. It is hoped that these awards help develop greater respect for and appreciation of the life-saving care provided by health Providers and is an attempt to recognize health workers who dedicate their careers working in, most of the times, in underserved regions of our country.
These awards are given in the following categories:
ASHA, ANM, LSAS (Trainer and Trainee) and EmOC (Trainer and Trainee).
Nominations for National Safe Motherhood Awards for Health Personnel were received from across the country. Chief Guest, Ms. Anuradha Gupta, Additional Secretary and Mission Director, National Rural Health Mission gave away the awards to ASHAs, ANMs and Doctors for exceptional contribution to reduction in maternal mortality, at the national safe motherhood day event organized by the Ministry of Health and Family Welfare, in collaboration with The White Ribbon Alliance for Safe Motherhood, India,
"Working towards educating mothers, fathers, communities, media, frontline health workers, civil societies institutions, elected representatives and policy makers, White Ribbon Alliance India intends to ensure that every woman counts and access health care before, during, after pregnancy and childbirth, and no needless maternal deaths take place." says Dr. Aparajita Gogoi, Executive Director, CEDPA India and National Co-ordinator, the White Ribbon Alliance for Safe Motherhood India.
Dr. Dinesh Baswal, Deputy Commissioner, Maternal Health, MoHFW Said " 11th April is Shrimati Kasturba Gandhi`s birth anniversary and safe motherhood day is commemorated to mark the occasion . Our primary focus is on better nursing and better nursing techniques as nurses are frontline and have better reach amongst the masses and specially the poorly served rural communities".
Winner of National Safe Motherhood Awards ASHA Punam Devi from Purnea District in Bihar says, "I like my job very much and I love what I am doing. I serve a thousand families and people in my village respect me. I guide pregnant women on nutrition and safe delivery, and ensure they are not anaemic. I encourage them to go to the hospital for routine check ups."

Recommended from all portals