Our experience and know-how about healthcare has made us a leading web solution provider in the industry today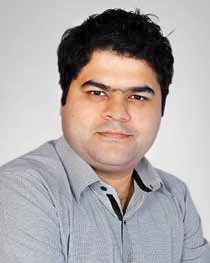 Deepak Sahni, Director, Sai Webtel Technologies Private Limited
A simple search on Google with "Healthcare India" gives about 19.8 million results today. Undoubtedly the industry has already recognised the importance of Internet and new media to connect with patients. But having an online presence not merely means  having a beautiful website or a blog that can provide information about your services, there is a lot more possibilities in terms of functionality and information that one expects to be able to do online.
We have analysed plenty of healthcare websites and studied patient browsing habits over number of years. As a result we have been continuously innovating new products along with online marketing and branding tools that are patient centric and proven to bring results.
Appointments and pre- registration
Today, almost no hospital or clinic website in India offers online appointment confirmation where patient can just not request but actually make an appointment confirmed by paying the fee online. This reduces lot of hassles for patient to make phone calls andwait in call centre queues and finally wait again at the billing counters today. The solution offers integration with almost all HIS Systems, integration with payment gateways to confirm appointments and integration with SMS gateway for alerts. In more advanced  ersion an integration for doing online pre-registration to get an OPD number and get the OPD card ready. It reduces the queue to great extent hence have better customer satisfaction.
Web nursery
Web nursery is one of the most innovative products with a web version. It allows the hospital to post the first photograph of a new born baby online. Thereby giving access via secured password to family and friends allowing them to upload photos, send personalised gift and greetings online. The tool also offers complete vaccination chart with alerts for parents for next five years. One  of the leading hospitals in Delhi has already clubbed the product with its prenatal package for attracting expectant couples.
CRM & response handling
We have developed an exceptional CRM and response handling mechanism for healthcare industry that keeps record with status and escalation for every request made online so that none of them are left unanswered. On the other hand CRM helps to automate messages via email on regular intervals up to six months from the date patient is discharged. As a result one can expect better  atient  satisfaction and patient to patient referrals.
Medical travel expertise
The solution offers entire online marketing strategy by selecting the targeted countries and regions for specific key specialities for which the patient is searching online. The patient landing pages are separately developed in multiple languages keeping the trust factor in mind. The solution also includes marketing techniques like SEO, SMO, Paid Campaigns to generate responses.
Sai Webtel claims to have many of such innovative solution in pipe line which they are developing for their clients that includes some of the top healthcare brands they have worked for including Fortis Healthcare, Max Healthcare, BLK Hospital, Jaypee Healthcare,Rajiv   Gandhi Cancer Institute, Rak Hospital Dubai, Panacea Biotech, Metro Groups of Hospitals, GM Modi Hospital, Centre for Sight, Axiss Dental and many more.

Recommended from all portals