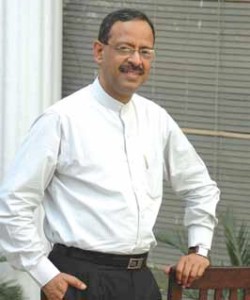 Anil Swarup,
Director General – Labour Welfare,
Ministry of Labour and Employment,
Government of India
Gives an account of different initiatives taken by RSBY to Sharmila Das, ENN Rashtriya Swasthya Bima Yojna (RSBY) came into being in 2008. Within a limited span, RSBY has garnered an enviable position in India's policy space. The United Nations Development Programme (UNDP) and International Labour Organisation (ILO) picked it up as one of the top 18 social security schemes in the world. 
Kindly update us about the successful healthcare schemes initiated by RSBY?

Till March 2013, more than 34 million families have been covered under the scheme and around five million persons have received hospitalisation benefit under the scheme. The scheme has now been extended to many such categories of unorganised workers as well who are not below poverty line.
What are the developments you have noticed in this domain?

Till the turn of the century, less than five percent of India's population was covered under health insurance. In the past one decade, the coverage has gone beyond 25 percent. This is perhaps the fastest growth in absolute numbers anywhere in the world. The number is likely to grow even further as the insurance modules are gradually stabilising and the Government itself is committing more and more funds.

What steps do you think are required to achieve affordable healthcare? In this respect, what else RSBY is doing? 
As per the available data, around 80 percent of the expenditure in healthcare is borne by individuals themselves and the Government is contributing only around 20 percent. This is gradually changing on account of increased Government intervention through schemes like RSBY and investments made by the Government under National Rural Health Mission (NRHM).

Do you think affordable healthcare can be achieved with the help of health insurance schemes?

With the increasing commitment of  the Government in terms of expenditure for healthcare, including the commitment to extend RSBY to more and more categories of workers, it is expected that out-of-the-pocket expenditure will come down.

What are your views on the rising trend of corporate healthcare?

The rising trend of corporate healthcare will benefit primarily those who can afford such healthcare. Thus, it will be limited to a certain  segment of Indian population. Whereas the quality of healthcare in such hospitals would be as good as anywhere else in the world, the  cost of healthcare will be prohibitive for the masses. Controlling cost of healthcare would be one of the key factors in providing  universal healthcare in the country.
Don't you think the big healthcare players should now start serving rural India by forming collaboration with bodies like RSBY?

It is unfortunate that big healthcare players, driven purely by commercial considerations, are not participating in schemes like RSBY.  RSBY provides an institutional framework to such hospitals to serve the poor. The RSBY plans to engage with such hospital chains and willing to participate under the scheme on the basis of costs that are determined for each of the procedure. The number of hospitals  mpanelled is growing by the day and it presently stands at more than 12,000 hospitals. Attempts are also being made to convey to the  big healthcare players the necessity to attend to the needs of the poor in the country

Recommended from all portals