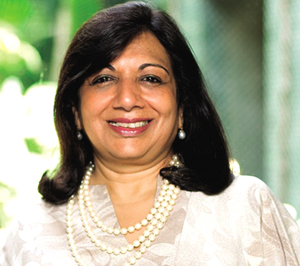 Kiran Mazumbdar Shaw,
Founder – Biocon and President,
Association of Biotechnology Led Enterprises (ABLE)

"ABLE- DBT partnership encourages entrepreneur workshop and judge business plans of the next generation to provide the best to the biotech industry"
Kiran shares her thought in a tête-a-tête with Shally Makin, ENN on the initiatives in the Biotechnology sector. She believes that we should be led by science and not by activism.
Being the Founding President of ABLE, with what vision you had brought this association into action?
ABLE is a not-for-profit pan-India forum that represents the Indian Biotechnology Sector. It was launched in April 2003, after industry leaders felt a need to form an exclusive forum to represent the Indian Biotechnology Sector. It has over 270 members from all across India representing all verticals of the sector like agri biotech, biopharma, industrial biotech, bioinformatics, investment banks and centure capital firms, leading research and academic institutes and law firms and equipment suppliers.
What initiatives have ABLE worked towards the sector over the past decade?
ABLE has initiated to accelerate the pace of growth of the Biotechnology sector in India, through partnering with the Government in their biotechnology initiatives to deliver optimal policies and create a positive regulatory environment, encouraging entrepreneurship and investment in the sector, providing a platform for domestic and overseas companies to explore collaboration and partnerships, we were able to catalyse regulatory reforms, forging stronger links between academia and industry and showcasing the strengths of the Indian biotech sector. ABLE has focused on regulatory issues, training programmes, connecting with media and investor community to understand the opportunities to invest in this sector. ABLE- DBT partnership encourages entrepreneur workshop and judge business plans of the next generation to provide the best to the biotech industry. We hold educational workshops and conferences, trying to build this potential bio economy to a huge size and shape through innovative ways of thinking.
Can you highlight the achievements ABLE has in its flag to vouch about?
Some of the milestones that ABLE has achieved are those related to Dr Mashelkar Committee report on recombinant product, Innovative programs of the DST viz. BIRAP and BIPP, Vision document for the Indian Biotech industry, Roadmap for the biotech Industry, building the Biotechnology Entrepreneurship Students team (BEST) and North East Life Science Entrepreneurship (NEST) programs, the BioInvest Program and the International promotion of Brand India through organizing the India Pavilion in various BIO Shows. For a long time, our pharma products were approved by the "Genetic Engineering Approving Committee", it should.
Woman of Substance
A successful technocrat of global standing, Kiran Mazumbdar Shaw heads India's leading Biotechnology enterprise, Biocon. Her pioneering efforts in biotechnology have drawn global recognition both for Indian Industry and Biocon. She presently serves on the Advisory Council of the Government's Department of Biotechnology where she has been instrumental in bringing government, industry and academia together, to chart a clear and progressive growth path for Biotechnology in India. Kiran Mazumbdar Shaw is the recipient of several prestigious awards including the most cherished awards -national awards, Padmashri (1989) and Padma Bhushan (2005) presented to her by the President of India, for her pioneering efforts in Industrial Biotechnology. Under her stewardship, Biocon has evolved from its inception in 1978 as an industrial enzymes company to a fully integrated Biopharmaceutical enterprise encompassing a well balanced business portfolio of products and services with a research focus on Diabetes, Oncology and Auto-immune disease. Her business Biocon, worth USD 800million, is one of India's leading drug companies and employs more than 6,000 people at its vast campus in Bangalore.
not be an environmental issue and so was brought under DCGI for being a healthcare issue solely. We brought out a number of white papers, biosimilar guidelines are now developed for the industry by us. ABLE has taken a huge initiative in educating the importance of genetically modified crop in agribio sector.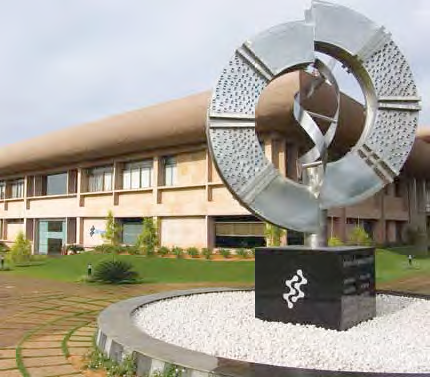 How do you foresee the biotechnology sector through your eyes?
We want some pharma companies to be part of this association and add knowledge to the members of the group. We will keep working towards improving and addressing regulatory
challenges and works on how to deliver it efficiently. We need to look at inherent challenges, as the investment pay back is very long in this sector unlike others. The inherent gestational timeline gives you a very long term investment but with an exponential return. It's about creating the right skills and training into the next generation entrepreneurs which includes a lot stakeholders starting from farmers, scientists, and engineers and technology innovators. We should also focus on the large natural advantages that we have and convert focus on these innovations which can help us to scale globally. I believe after biotechnology, India should look for opportunity in genomics and bio IT.
 About Biocon
Biocon, Asia's leading biotech enterprise, headquartered in Bangalore, India, is constantly engaged in delivering affordable innovation.
As a fully integrated biopharma company Biocon delivers innovative solutions, across discovery, development and commercialization of biopharmaceuticals value chain, leveraging the cutting edge science, cost-effective drug development capabilities and global scale manufacturing capacities, in order to move ideas to market.
Biocon recognised as largest Indian Insulins company has several innovations to its credit including world's first Pichia based recombinant human Insulin, INSUGEN®, insulin analogue Glargine, BASALOG® and India's first indigenously produced monoclonal antibody BioMAb- EGFR®, for head and neck cancer.
It has also developed another Novel Biologic, Itolizumab for Chronic Psoriasis, which is to be introduced in India shortly much ahead of its global launch. INSUPen® based on German technology, is a next generation insulin delivery device introduced in India by Biocon.
The Company's aspiration to become a USD 1 billion company by FY'18 is fuelled by five powerful growth accelerators, with a focus on emerging markets, these areSmall Molecules, Biosimilars, Branded Formulations, Novel Molecules, and Research Services.
Biocon, worth USD 800million, is one of India's leading drug companies and employs more than 6,000 people at its vast campus in Bangalore.
Manufacturing is another neglected sector with an economic model that is much skewed and only contributes 15 percent in the GDP.
This offers employment opportunities, as we being the largest vaccine manufacturers, largest manufacturers in generic drugs, we need to find answers if we can repeat the history in being the largest manufacturers in biologics. Can we go beyond generic vaccines, DNA vaccines is what I see the future to creep into the biotechnology sector

Recommended from all portals