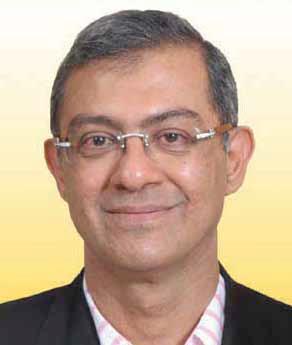 As healthcare sector is evolving, newer hospital models are coming up in the country. Care Institute of Medical Sciences (CIMS) is one such hospital that has set an example of group practice by doctors. Nikita Apraj, ENN speaks to Dr Keyur Parikh, Chairman, CIMS about his hospital
Dr Parikh, prefer his hospital to be called a 'for profit community hospital'. "It would be an antithesis to call a hospital as a 'corporate hospital'. Medical hospital can never be corporate", he says
Architectural delight
CIMS is one of the first green hospitals in the country. The hospital has used rain-water harvesting, fly ash bricks in its design with multiple courtyards in the hospital. The ICUs of hospital have central sky lights and courtyards. All operation theatres as well as angiography facilities have central sky lights as well. Our hospital is an architectural delight. Many architects come to our hospital to study its design. We have minimised use of artificial lights and maximised use of natural lights wherever possible. It is at the cost space, but we took the decision.
Located on the Science City Road of Ahmadabad, the hospital sits on a spacious premise. Dr. Parikh adds, "We got a good piece of land here in the outskirts of Ahmadabad. Finding such a place in the city was not possible. It was cost-effective. We wanted a specious premise."
"Based more on a co-operative model, Committees of doctors are empowered to run the hospital"
Dream come true
Hailing from the third generation of Indian migrants to Africa, Dr Parikh was in California since 1980. He and his wife decided to come back to India for mainly two reasons – first was to come up with a hospital which was their dream. This was something
which was not conceivable in America. Second was to come back to the country of origin. It was our strong desire to raise our three children in our home country. "I didn't want them to be fourth generation migrants. So we came back in 1995", he reveals.
The hospital has 150 beds at present and is coming up with another 75-bed expansion which has already begun. CIMS serve all major medical specialties but cardiology is the stronghold of the hospital. As per Dr Parikh's information, the hospital performs around 700 cardiology procedures a month. It also performs about 500 angiographies, 150 angioplasties, 50 pacemakers, 70 Electro-physiology studies and more than 100 open heart surgeries in a month in its second year of operation.
Co-operative hospital
Dr Parikh explains management structure of his hospital, "We neither have CEO nor COO; our hospital is run on a horizontal hierarchy. Committees of doctors are empowered to run the hospital. A management team of doctors and non-doctor managers run the hospital through committees. The hospital has about 30 committees and each committee is empowered to work through a management team which reports to the board of directors. We have many doctors who voluntarily devote few hours a week to the workings of the committees. It is based more on a co-operative model. It is a model where doctors co-operated to create think tanks who sit in committees. People actually advised us against it but we tried and tested this model."

Recommended from all portals