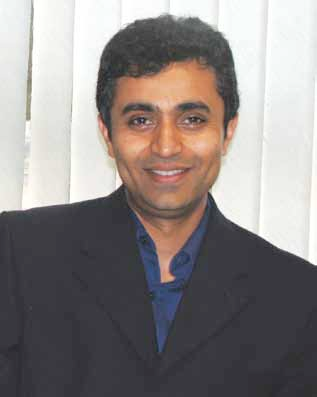 Deepam Mishra, CEO, i2india
Shares the benefits that medical technology has offered to the entire health fraternity
How do you think technology has been making contribution in healthcare?
In today's high paced era, technologies are focusing on reducing the time and effort required for all forms of medical services –from diagnosis to treatment. Technology will continue to play an increasing role, both at the local as well as at the hospital location. With cost and portability improving, medical technologies can be brought to the patients, instead of making the patient always travel to them. Technology is also contributing to faster recovery of the patients. Hence patients don't have to invest for prolonged hospital stays. Technologies have helped in tapping the tier II and tier III cities by providing remote diagnostic and mobile monitoring facilities to patients in those cities. Recently, many non-invasive technologies are being introduced in the Indian market making patient more compliant and adhered to the treatment.
What kind of health IT or medical equipment solutions you are offering to Indian healthcare market?
I2india offers simple, non invasive drug free yet low cost solutions which can either be administered by the local healthcare providers or the patients themselves. We seek solutions for remote diagnosis, low-cost patient screening and mobile monitoring.For example, we have introduced a non invasive, drug free and cost effective device named Lung flute used for inducing sputum and alleviating lung congestion. This simple device can be used either at home or at the primary healthcare clinic, hence making the patient free from going through complex and expensive hospital treatments. The product has been well established in the Indian market and has become an integral part of pulmonary rehabilitation.
What changes or rather say advancement has happened over the years in your targeted health technology segment? What are the reasons for such change?
There has been great change in the perception of the patient towards technologies. Patients are becoming more educated and demanding. They are willing to accept new technologies for better health. Patients want to reduce their drug usage and adapt to drug free solutions. Lung flute has been a good fit to overcome this problem of patients and helped reduce medication dosage with its continuous usage.
How the doctor-patient fraternity has been adopting the changes that health technologies have brought to modern healthcare?
The adoption level in both the groups is steadily increasing, due to increase in awareness. Doctors are increasingly relying on technology to pursue easy and less time consuming technologies. Patients too are increasingly developing more faith in doctor's suggestions for adoption of new technologies.Such adoption is faster in bigger cities due to relative ease of patient education and for the awareness of the doctors about new technologies.
In making the transition smooth, what steps you think a hospital or healthcare institute should take? Do you have a role to play in this?
Despite improvements, hospitals and healthcare institutes are still slow to adopt new ideas – perhaps stymied by the fear of losing patients for increased cost of treatment as well as for lack of clarity on regulatory approvals. Often hospitals and doctors tend to focus too much on up-front and immediate costs and not on ongoing long-term impact and costs. For this, doctor and patient awareness programs can be held. Companies like us can help doctors conduct such program at local level. Other than this media can play big role to spread awareness.
What is your view on Andhra Pradesh healthcare?
We do not claim any specific expertise in AP but our products , have had a good reception and overall we have had a good experience in AP Andhra Pradesh seems to have developed . a lot in healthcare. Many big chain hospitals and innovative healthcare providers are now operating in the major cities.

Recommended from all portals