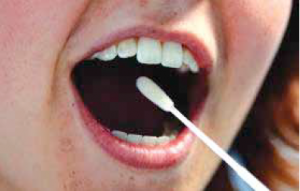 A new type of bio-sensor can detect minute traces of glucose in saliva, tears and urine, doing away with pinpricks for diabetes testing.
"It's an inherently non-invasive way to estimate glucose content in the body," said Jonathan Claussen, former Purdue University doctoral student and now a research scientist at the US Naval Research Lab."Because it can detect glucose in the saliva and tears, it is a platform that might eventually help to eliminate or reduce the frequency of using pinpricks for diabetes testing," said Claussen, the journal Advanced Functional Materials reports."Most sensors typically measure glucose in blood," Claussen said. "Many in the literature aren't able to detect glucose in tears and the saliva. What's unique is that we can sense in all four different human serums: the saliva, blood, tears and urine. And that hasn't been shown before." Besides diabetes testing, the technology might be used for sensing a variety of chemical compounds to test for other medical conditions.
---
IAN & India Innovation Fund Co-invest in Consure Medical, a Medical Devices Startup
Indian Angel Network (IAN) and India Innovation Fund announced today an undisclosed investment in Consure Medical; a Delhi based company which has developed a new standard of care for the management of fecal incontinence in non-ambulatory patients. The Series A round was led by India Innovation Fund and Hemant Kanakia of Indian Angel Network. Other prominent co-investors in the round include India Venture Partners, Shrikumar Suryanarayan and Saurabh Srivatsava. Consure Medical was co-founded in 2011 by Nishith Chasmawala and Amit Sharma. Prior to Consure, the duo have commercialised seven products for the US, EU and Japanese markets and have crossfunctional leadership experiences from Cordis Corp. (J&J), Kyphon, Inc. (acquired by Medtronic) and Vascutech, Inc. Consure Medical has developed a disruptive technology that will benefit more than 16 million patients in India and over 100 million patients worldwide. The company competes in the $7 Billion fecal incontinence market with a differentiated product that has patent protection in all key geographies. The company will use the investment to complete product development, execute their clinical & regular strategy, and commercialize its proprietary technology.