Social Media: A cure for what's ailing healthcare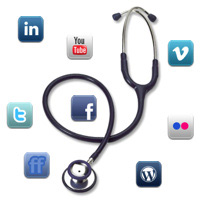 Hospital volunteers foster positive patient relations and do wonders to increase patient and family satisfaction. In this environment of budget cuts, the importance of volunteers is even more evident.
A new book, The Volunteer Management Handbook: Leadership Strategies for Success, edited by Tracy D. Connors and released last month, contains a wealth of information. Of particular interest is an entire chapter, "Social Media and Volunteer Programs," written by Nancy Macduff. There's a free summary of the chapter available as a pdf on the publisher's site.
Using social media in volunteer relations
In the chapter, Macduff shares statistics from studies by the Nonprofit Technology Network (NTEN) that help set the stage for using social media in volunteer relations.
Of the sectors where nonprofit organizations operate, 14.5 percent are in health care. Macduff wrote, "It is clear that nonprofits and likely their volunteer programs see marketing and fundraising as appropriate uses of social media, but there seems to be timidity about crossing into other areas of usage such as blogs for volunteers to share experiences, Wikis to manage projects or meetings, or a Facebook page only for volunteers."
Macduff advocates the use of social media to strengthen volunteer programs, and sites NTEN's 2010 study that reported the reasons nonprofits do not use social networking sites: 47 percent say ''lack of expertise,'' and 32 percent say ''insufficient budget.'' The last finding, "insufficient budget," is exactly the reason using social media to strengthen hospital volunteer programs makes so much sense. Social media programs, once implemented, can be run with extreme cost efficiency.
When implementing social media training in other areas of the hospital, include volunteer relations and volunteers themselves. Considering the benefits of increased volunteerism and enhanced patient relations, social media programs directed at volunteers have the potential to have high impact returns.
Hive Strategies helps hospitals and their agencies engage patients through social media.