Technology needs to be secure, stable and scalable, and it is equally important that it should be supported internally and externally
T S Y Aravindakshan
Lead, Public Sector Breadth, Microsoft
www.microsoft.com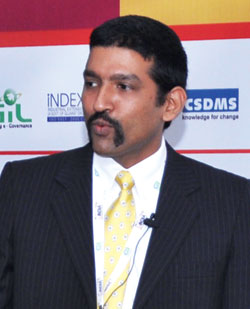 During the last decade the health spend has been rising and the quality of healthcare has been declining. Digital technologies are having an impact in every walk of life, but not much improvement has happened in the healthcare sector. The cost of quality healthcare continues to spiral. At Microsoft we believe that we're on the cusp of a pivotal change. Within the coming decade, we expect to see a number of innovations that will actually equip consumers to improve their health and manage risks.
One of the primary reasons that digital technologies have not delivered on the promise is that, up until recently, the vast majority of health information technology solutions (HIT) on the market today have targeted our existing, acute care delivery system – the hospitals, clinics and emergency departments – that are in the business of caring, but not preventing acute conditions and complications of chronic diseases.
Acute care is, of course, an information-intense business, so it's no surprise that most of the solutions to date have focused on digitising, organising, and moving health record information around the ecosystem. The problem is, our existing acute care delivery system is mired in its own inertia around reimbursements, cost shifting, low primary care to specialist ratios, and local turf wars and is now so consumed with acute care that it doesn't even have the capacity to refocus on health.
At Microsoft , our focus is to collaborate and innovate with industry, business, academia, government, and consumer leaders to bring innovative, scalable and higher leverage solutions that bring about improvements in healthcare at lowest cost per capita to the environments where we live, work, learn and play.
With reimbursements falling and medical loss ratio minimums rising, hospitals, physicians, and health plans are under unprecedented pressure to drive down operating costs while still improving the quality and safety of patient care. The economic advantages of cloud-based productivity solutions to drive down operational costs and complexity are well understood.
Clinical teams–doctors, nurses, pharmacists, and care coordinators–spend about 80 percent of their time communicating. The ability of facilitating communication on the move between patients and departments and the office and hospital can make the difference between a rapid recovery and a life threatening complication.
Technology needs to be secure, stable and scalable. It needs to be supported both internally and externally. It's not enough to have a system in place internally if the clinical trial partners you work with can't use it. If life sciences companies are ever going to ditch paper and move towards an integrated content management system, there needs to be industry-wide agreement on the technologies, standards and protocols and business processes that need to be in place.  Basically, there is some risk in going 100 percent paperless. In order to improve data exchange and foster collaboration, solutions should integrate with other applications, and seamlessly aggregate data from disparate sources into common, accessible formats.

Recommended from all portals