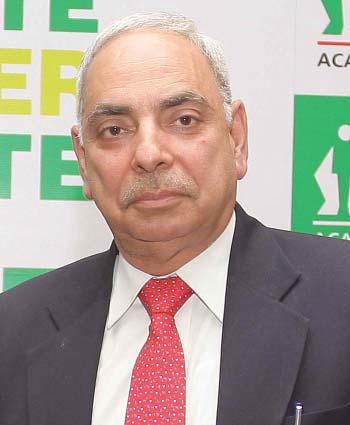 PROF. (DR.) UPENDRA KAUL
Executive Director Department of Cardiology & Dean – Department of Academics & Research
Fortis Escorts Heart Institute & Research Centre
In a recent initiative, Fortis Healthcare announced its plan to focus on its academics and research programme with the objective of fostering and facilitating academics and clinical research enterprise across Fortis network of hospitals. Starting with cardiology, the company has appointed Fortis Escorts Heart Institute as the Site Management Organisation (SMO) to provide services for clinical trials in Cardiology that will be conducted across the Fortis hospitals under the exceptional leadership of Dr. Upendra Kaul.
In an exclusive interview with eHEALTH, Dr. Upendra Kaul, Padamshree and recipient of Dr. BC Roy Award, and Executive Director Department of Cardiology & Dean – Department of Academics & Research Fortis Escorts Heart Institute & Research Centre, provided insight into the major activities of Fortis Healthcare in this domain and an overview of the global clinical research market.
There has been a recent surge in clinical research activities in India. Please tell us about Fortis Healthcare's recent foray into academics and research and its plan for future activities.
I have dedicated several years of my life in teaching and research activities at the All India Institute of Medical Sciences, Delhi. After AIIMS, I worked with Batra Hospital, between 1997 and 2005, where also I was mainly involved in science and research activities. Post Batra Hospital, I joined Fortis Escorts Heart Institute & Research Centre.
After joining EHIRC, I realised that corporate hospitals also recognise the utility of research. Good health delivery is not possible unless you have good evidence-based medicine being practiced in the hospital along with some teaching programmes being offered. A good hospital should have teaching programmes and research activities carried out by people, who have an experience in this field and who can further train others.
Research not only means focuses on development of new molecules, but also involves improvement of patient care, thereby ensuring the provision of best quality care. I believe, the best way to achieve this is to identify new products being developed as a result of R&D activities and to evaluate and compare them with the existing products in a scientific way. In this way, the judgment is done by a third party and not the researcher himself, whose decision may be biased. This requires an independent group of people, who can carry out these research activities.
In terms of academics, what courses are you offering and/or planning to offer?
To provide doctors with a regular certificate or prestigious degree, a college should be involved in formal teaching activities. Private hospitals, which are not universities, can offer courses accredited by the National Board of Examinations (NBE).
Further, the hospital must ensure that a good teaching curriculum, which is academics oriented and provides all information and facilities for education in the form of teaching ourses, classes, libraries, faculty, discussions with the students, etc., is in place.
Our courses recognised by the NBE include courses in cardiology and fellowships in paediatric cardiology, cardiac surgery, critical medicine and electro-physiology. We have also built our own programmes by organising fellowships that are not attached with the NBE.
We also have a department of clinical research, however research projects are not easy to get and perform as they involve a lot of legal intervention.
These include going to the ethics committee or permission for recruiting patients, who need to be well informed about the study. During the study, the coordinators have to keep coordinating with the patients on various activities. We already have ten coordinators to handle these patients. Certain projects are multi-centric and require a large patient population so that statistics can be applied to them. Such projects also need constant examination to ensure the authenticity of the fi gures being recorded. External observers are also required for these projects, who can keep a check on various protocols being followed properly. Such projects come from the DCGI.
 All Fortis Hospitals have a common external ethics committee. We have an institutional review board that has a chairman who is not from the hospital. There is also a member from the teaching community. The basic idea is not only to evaluate the scientifi c content of the study, but also the ethical part of it. The team's job is to see whether the hospital has adequate resources and manpower to carry out the project. Also, before the project is targeted, it has to be approved by an independent ethics committee, otherwise one can not get FDA sponsored projects. The federal government is very strict and ensures that there is not even an iota of error in the research. The ICMR and ethics committee must also follow the ICMR guidelines.
The awareness level of patients in India is low.Do you see this as a challenge in terms of convincing patients to be a part of a clinical research activity?
Yes, this is a challenge because awareness level is low and despite of all methods being used for taking consent, it is very diffi cult to recruit patients. Patients have to sign a consent form that has different angles to it. Although there is a set of patients who agree to be a part of the research without giving it much thought, there are others who are just not ready to participate in it. The investigator, also, should be convinced that the drug being used in the research should not harm the patient.
On the other hand, the patient must be compliant and so that he can revisit the hospital as and when required. Compliance should at least be 90 percent, otherwise the research activity will not bear accurate results. Being a large population, theoretically, we feel that we can get larger number of patients as compared to European countries and this is the reason why the West is looking at India and China for clinical research activities. However, the processes have now become more complex owing to the policies laid by the ICMR and the DCGI. If the institutions do not comply to these guidelines and policies, they will be blacklisted.
How do you plan to take this initiative forward? Do you also have plans for tie-ups with other institutes?
We have research projects, which are being sponsored and taken care of by various pharmaceutical companies We follow our own protocols, through which we evaluate indigenous drugs. If the product matches our level of expectation, then we should proudly use it instead of going for its more expensive foreign counterparts and also export it to other countries.
What will be the long-term benefi ts of this initiative for Fortis Healthcare as well as the healthcare community?
Such initiatives provide good opportunities to the hospital. If the research project is internationally acknowledged and its results are accepted by the international authorities, then it turns out benefi cial for the drug manufacturer, as well. Further, by doing these projects facility centres get stateof- the-art drugs and equipment to support research activities. Also, global research projects are funded so the facility carrying out the research does not need to spend any money on it; even the patients for that matter are funded.
Please provide an overview of the clinical research market in India and its growth potential. How does Fortis Healthcare plan to tap this growing market?
The scope of growth of clinical reserach market is immense. Clinincal Research plays as an important driving factor in ensuring that the new drugs entering the market are safe and effi cacious.
The figures of the year 2007 suggest that approximately 1.2 lakhs clinical trials were carried out in that year and around 10 million patients participated globally in these trials. In 2010, approximately 12 million patients are expected to participate in clinical research activities and out of these 2 million patients will be from India. Considering that approximately 4000 drugs are developed every year, the scope for these researches is huge.
Utilizing the size and strength of its network hospitals, Fortis will conduct all phases of clinical trials. Fortis will leverage the strength of its network, cutting edge diagnostic facilities, talent and pool of patient population to provide end-to-end solution for multicenter trials.
Considering that Fortis hasstandardized its Research protocols, the idea is to introduce new information, observational research concepts, and technical skills by bringing the latest state-of-the art diagnostic and treatment advances to physicians both within Fortis Group of Hospitals and the larger healthcare community.

Recommended from all portals