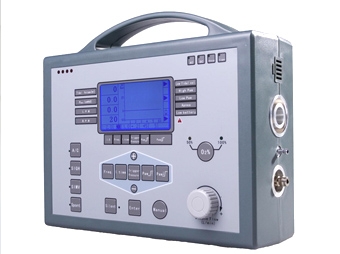 Satya Medtech India Ltd., a premier medical equipments & consultant company, in association with Hamilton-Medical, a Swiss company with expertise in Ventilation systems, today launched "HAMILTON-T1", the first high end ICU performing transport ventilator. The HAMILTON-T1 is designed to ventilate the adult or pediatric ICU patient at any place around the world. With its compact size of less than 6.5 kg, built in batteries with up to 5.5 hours operating time, 8.4" color touch screen and its high performance turbine, this ICU ventilator can accompany your patient within the hospital and between hospitals, whether on the ground or in the air. Its integrated high performing NIV capabilities add state-of-the-art therapy options for any transport situation.
Speaking on the association & the launch, Mr. Ajay Chopra, MD-Satya Medtech said, "A Lot of lives has been lost while transporting patients from the spot of emergency to the ICU. Belonging to the family which has been in the medical industry for the last 50 years I feel proud to launch T1 in India with Hamilton Medical Which will help in saving more lives & giving better healthcare facilities to the patients fighting for life."
Launching Hamilton-T1 in India, Mr. Sanjay Saproo, Country Manager India-Hamilton Medical expressed, "Hamilton T-1 is the first of its kind of ventilator, which work in air, road and ICU offering a performance of a very high end ICU ventilation with its host of features like ASV – a Autopilot ventilation concept and dynamic lung which provides the intensivist with the likewise information like a cockpit of an airplane. Hamilton Medical AG., has transformed the advanced bedside ventilation therapy into a Hamilton T-1, thus being the first company in the world to offer the patient care in the complex environment of air, road and ICU."
The HAMILTON-T1 ventilator features a compact, powerful design that increases the availability of appropriate modes of therapy for ventilated intensive care patients outside the hospital. The HAMILTON-T1 covers the full range of clinical requirements: invasive ventilation, automated ventilation with Adaptive Support Ventilation (ASV®) – invented by Hamilton Medical, and non-invasive ventilation (NIV).
Satya Medtech's decision to partner with Hamilton Medical was made as HAMILTON-T1 delivers an ICU ventilation solution in a transportable platform that's appropriate for all patients – from pediatric to adult. The HAMILTON-T1 is the ideal choice for extreme environments, where ICU ventilation is a must. When transporting ventilated intensive care patients, superior technical performance is only one important quality. Ventilators must also deliver reliable data and easy-to-follow user guidance for better clinical decisions and improved patient outcomes, together with low operating costs throughout the working life of the investment.

Recommended from all portals