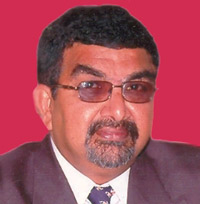 Dr S Kumar, Dean, MS Ramaiah College, believes to bridge the gap between the rural-urban education systems by adopting a single national integrating system. In conversation with Shally Makin, he shares the need to address the rural healthcare system to be of utmost importance
What is the present medical education scenario in India?

We admit around 45,783 students in medical colleges, annually. India is a bundle of contradiction and has lots of gaps between the present reality and future needs. We have one billion population out of which, roughly, 73 is rural based and yet we lack in providing rural healthcare. Rapid urbanisation has also led to an unattended tendency to discriminate. There is a need of rapid socio-economic reforms and we should not neglect the rural community. We should have adopted a single national integrating system with India having the best of medicine system like ayurveda and allopathic but we chose the British system. At the time of independence we had just 8,500 medical seats and now we have grown up to 45, 000 medial seats.
What is your opinion about medical training in India?
There is a huge perception gap between the goal of our curriculum and the curriculum that has been prescribed. MCI requires admitting 180 odd faculty members to run a medical college with 100 students and has not mandated even one family physician in the whole lot. The medical students are not exposed to primary care. We teach them about some cases theoretically to which the students might never ever encounter today. Earlier, seven beds were allotted per student and now it is reduced to five beds as per Medical Council of India (MCI). The regulatory body has been liberal in sanctioning medical colleges like Pondicherry which alone has around twelve medical colleges but due to sparse population it does not have patients. We need to draw attention to primary care centers rather than tertiary healthcare centers. We lack in training students for skill development and clinical application throughout as they are not taught intensely. If we shift from volume of theoretical knowledge we will be able to maintain the passion for this profession. We need to create a skill-set focus and  an extremely strong foundation. It will be great if we are able to shift medical education into the community by encouraging tertiary healthcare centers to build medical colleges in the rural areas.
As of now, there is a serious dearth of good doctors and healthcare facilities in rural areas of the country. What according to you needs to be done to bridge this rural-urban healthcare divide?
We have to change the criteria of selection for Under Graduate program from MCQ-based centralized exam which just attracts those students taking coaching for such entrance exams in the urban areas. One cannot expect these doctors who are brought up in such elite model of upbringing to practice in the rural areas.  Asia Heart foundation encourages young potential bright students to get the best of medical education. These students from the rural background mostly go back to the roots and serve their villages. There may be just a small fraction of the lot which chooses to stay in the metros. We need to give infrastructural support along with some incentives to such young students for motivation.
What are the various facilities provided by your college that contributes in giving a better overall medical training?
We need to build a primary hospital in a village and make a student to live for a month with a mentor for each group. These doctors develop a sense of empathy to go every month. The students think before writing a lavish transcription considering the financial status of the patient. This is the major change we have brought into the college curriculum.
Are you satisfied with this year's budget for Health and Family Welfare? What are your  expectations with the next budget?
Budget has not been an issue. But the matter is we use around one percent of GDP with a public expenditure being less than 20 percent and private accounting to 80 percent. Eighty percent of the funds is spent on salary and remaining gets dumped due to corruption. The budget allotment is not really deficient but the people involved should use the resources in a better way. Healthcare providers need to reprogram the ride so that they will not come back to past.

Recommended from all portals